A picture paints a thousand words holds true when it comes to blogs. If you're running a startup or do content marketing for your site, having a great gallery plugin will boost your content. With a gallery plugin, you're able to have interesting layouts or perhaps have extra functions like WooCommerce integration.
Without further ado, let us dive into the best WordPress Gallery plugins available now after the break. This is the 1st out of 3 posts this week. I hope I'm able to publish the 4th on the weekend, to make up for last week's absence.
An Introduction : Best WordPress Gallery Plugins
There are a lot of gallery plugins for WordPress now. On CodeCanyon itself, we have 199 gallery, grid and portfolio plugins. Even a simple search for gallery plugins on WordPress.org itself brings about a thousand plus results. As such, let us focus on the three prominent WordPress Gallery Plugins out there, namely, FooGallery, Envira Gallery and NextGen Gallery.
Below, we'll explore the features, price and recommendation for each of these gallery plugins.
Best WordPress Gallery Plugins : Price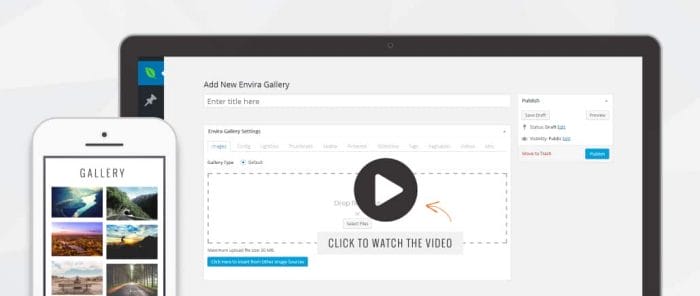 The three prominent WordPress Gallery plugins come with different price points. Enviro Gallery Lite comes free but without any add ons, which you need to buy separately. Envira Gallery starts at $19 with yearly renewals. It goes all the way to a lifetime price of $249
FooGallery comes entirely free withe the default gallery templates. If you need more templates and features, you can buy them separately via FooPlugins.com. The templates are relatively affordable with the Cube Gallery going at $5, while FooGrid goes at $19 with a 50% off for renewal.
NextGen Gallery also comes with the Plus, Pro and Free version. While NextGen Gallery comes free and would be good enough for most people, NextGen Gallery Plus retails at $69, while Pro goes at $99. To continue enjoying updates, you would need to renew yearly.
Best WordPress Gallery Plugins : Deciding On The Features You Need
[table id=5 /]
If we compare the free versions of the three plugins, NextGen Gallery and FooGallery has the most functions out of the box. The pro versions of Envira Gallery and NextGen Gallery, comes with more templates and functions, with Envira Gallery being really impressive, while FooGallery looks really good with the extra templates and FooBox Pro thrown in. NextGen Gallery has a lot of options, which you might or might not use.
If you need to decide between the three options, you need to ask yourself what is your main goal. If you just plan to have simple galleries or have different type of templates, going with FooGallery is a great option.
If you plan to have slightly advanced features like a DropBox importer, password protection and the ability to sync with Adobe Lightroom, perhaps Envira Gallery would be the best for you.
If you're a photographer and want to sell your images, it's a toss-up between NextGen Gallery and Envira Gallery. NextGen has easy to use options that allow you to select image sizes, though the cart's position is a bit awkward. Envira Gallery allows you to plug into the powerful WooCommerce plugin. However, you might need to buy some WooCommerce extensions to handle detailed shipping and photo bundles.
If cost is an issue and you just want something powerful without needing the advanced features of Envira Gallery, Foo Gallery is a very practical gallery plugin to consider.
Best WordPress Gallery Plugin : Other Things To Consider

While the free version of NextGen Gallery comes with the most features out of the box, it is also the slowest due to the amount of scripts it brings on page load. It also has the most cluttered interface.
In comparison, Envira Gallery and FooGallery has simple user experience design (UX) and keeps things simple via their easy way of activating and deactivating extensions. This helps you load faster while making it easier to troubleshoot and add features via hooks in both plugins.
Conclusion :
For most people, you might not need to buy a gallery plugin, as WordPress' default gallery might be all you need. But if you want more features, Envira Gallery, FooGallery and NextGen Gallery are viable options for you.
Disclaimer :  I currently work on contract with FooPlugins, the owner of FooGallery at the point of writing this article.