There is a subtle but telling difference between an Email Marketing Software (or known as Email Marketing Services) and WordPress Newsletter Plugins.
While email marketing software are focused on email marketing automation, most WordPress Newsletter plugins are focused only on sending newsletters. There's an exception to this though, with MailPoet.
In this article, we will be looking at the differences between Email Marketing Software and WordPress Newsletter Plugins, and which product would better suit your needs.
We have also listed down hosted and self-hosted newsletter software, but won't touch on those.
Email Marketing Software Options for WordPress
WordPress Newsletter Plugins
MailPoet
JackMail
The Newsletter Plugin
Mailster
Email Subscribers Pro
MailOptin
SendPress
Self-Hosted Newsletter Software
Hosted Newsletter Software
Mailbluster
Bigmailer
MoonMail
Pepo Campaigns
Email Marketing Software
MailPoet
MailChimp
ConvertKit
GetResponse Plus
Moosend
SendinBlue
Wishpond
Drip.com
Email Delivery Service
Amazon SES
Mailgun
Pepipost
Mandrill
Best Email Marketing Software for WordPress?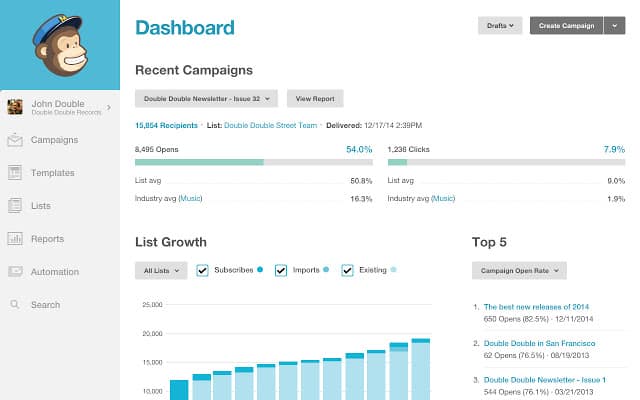 If you are starting up a blog, a free email account with MailChimp, might be enough. It gives you 2,000 subscribers for free, with 12,000 emails per month.
But you will still need an email delivery service such as Amazon SES, Mailgun or Pepipost for your website's transactional emails. These are emails sent when there are new product orders, new users registered and even password resets.
However, once your blog grows, you either need to regularly trim your subscribers list or upgrade to a paid plan.
And while this is good for some of us, if you have multiple non-profit blogs, perhaps finding an alternative would be better.
Let's look into the two options below.
Why and Who Should Choose A WordPress Newsletter Plugin?
WordPress Newsletter Plugins are good if you are on a budget. As Amazon SES is cheap, you can rack up a sizeable mailing list and still not feel the pinch.
Disclaimer: MailPoet and JackMail works best with their proprietary email sending service. This means, their cost will be higher than running on Amazon SES. I'll exclude them from below.
Pros of WordPress Newsletter Plugins
We'll first start with reasons to choose native WordPress plugins instead of email marketing software.
Low Cost – While an average WordPress newsletter plugin costs about $65 to $99 per year, email marketing software cost around $30 per month for 2k subscribers. However, the cost increases as you gain more subscribers and costs an average of $250 per month for 50k subscribers.
Better Post Notification Emails – Compared to Email Marketing Software, having a plugin means you are able to fully customise your posts with details like category, tags, excerpt, full post, author info and others. In comparison, email marketing software like MailChimp parses the posts via RSS, giving it limited data to customise your posts with.
Cons of WordPress Newsletter Plugins
However, going this route has its own limitations and frustrations. Let us explore below:
Most lack a drag & drop designer – Only the Newsletter plugin have an integrated drag-and-drop email designer. As for the rest, you'll need to adjust them by html, which can be a challenge for regular bloggers and content marketers.
Lacks email marketing automation – If you run an online store and plan to get more customers via email marketing automations like abandoned cart emails or a welcome email, no WordPress newsletter plugins does so.
Slow sending speed – By using a third party email delivery service, you are recommended to send only 2,000 emails per hour. While this seems enough, once your subscribers list grow, it mean some of your emails might arrive late. Especially if you write on news or time-limited deals.
Native WordPress Newsletter plugins are good for blogs on a budget or just starting out.
Why and Who Should Choose An Email Marketing Software?
Email Marketing Software gives you automation and much better analytics compared to WordPress Newsletter plugins. And its understandable, as plugins are limited in size and lack the funds that an email marketing software has.
If you are serious about growing your blog, an email marketing software is a must. You get much better sending speeds, delivery rates, marketing automation and email templates compared to WordPress Newsletter plugins.
What About MailPoet?
I like MailPoet. It gives you the best of both worlds. As a WordPress plugin, it lets you create better post notifications than an email marketing software.
It is also a full-fledged email marketing software with automation and its bespoke MailPoet Sending Service.
I've written an in-depth but fair review of MailPoet. Check out the MailPoet Review here.
Conclusion
Choosing the best email marketing software for your WordPress site depends on which stage your site is in. If you are just starting out, MailChimp is a good choice. Beyond that, it is a question of your budget and long term goal of monetising your site.
If you run a non-profit or work in a company that don't see the benefit of email marketing software, the newsletter plugins are a better choice for you.