Have you ever had to make some announcement on your site but worry that your blog post might be too short, affecting your SEO? Plus, would your readers actually read the post?
Or you've tried newsletters and they don't seem to get the open rate that you're looking for. And then you try messaging apps like Intercom, only to find your customers missing out on announcements which gets buried under support requests.
There seems no easy way to do announcements.
And the issue is, these announcements would actually benefit your readers/customers/users. Except that it gets ignored or missed.
If that sounds like you, you need Beamer. Read on our Beamer Review below to find out more.
Beamer Review: An Introduction
Beamer is a changelog-as-a-service app. That means, Beamer was originally conceived to help SaaS (software-as-a-service) apps to notify their users on changes, bug-fixes as well as new features. And Beamer does that well.
However, Beamer is good for announcements too. In fact, with the upcoming features to Beamer, you might not use Beamer for changelogs anymore.
You see, unlike those typical Trello-like changelog apps, Beamer comes across as a micro blog that auto-magically puts a number to your 'What's New' menu, improving on user engagement by ten times!
This makes Beamer an invaluable tool to anyone running a website. Especially if you're not running a static brochure site (which you shouldn't). I'm so impressed by Beamer that I bought a few lifetime licenses for future use.
Beamer Review: First Impressions
My first impression of Beamer was how pretty Beamer actually looks. Beamer didn't look like a typical changelog app. Plus the Beamer widget looks great.
On the backend, Beamer comes across as simple but effective. Though there are a couple of tabs to go through, you will mostly be on the:
Home tab to make and update your announcements, and
Analytics tab to view the performance of your announcements.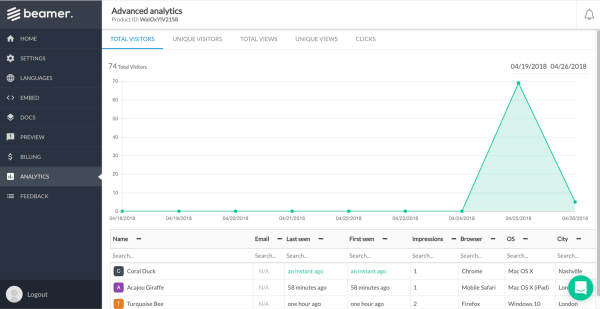 Check out our Beamer gallery below to see how Beamer looks like on the inside.
What really caught my attention though, was the upcoming mini roadmap. Check out the road map from Beamer themselves.
Here is a mini-roadmap so you can see how Beamer will continue to improve:
API and integrations (Auto posting, RSS, Shopify, WooCommerce, etc)
Social networks sharing
Multi account
Web push notifications
Pop-up view for Beamer news feed
We have tons of other awesome new features on our roadmap.
Just a single Shopify/WooCommerce integration makes Beamer worth it. Now with both Shopify and WooCommerce integration as well as RSS, you get a winner. And then Beamer will be putting in web push notifications directly to your customers' browser! (does a jingle)
Beamer Review: Beamer vs Competition
I compared Beamer with some notable competitors such as Headway, ProductMap.co, Barelog, Roadmap.space and ReleasePage and it is safe to say that there is no competition.
While there aren't many apps in the changelog-as-a-service segment, it is clear that Beamer's competitors focus on change logs and roadmaps, while Beamer focuses on announcements.
As of now, Beamer's main advantage is:
The ability to embed videos – none of its competitors has this
The ability for feedback and reactions – Only Roadmap.space has this
Easily attach your changelog/updates to your menu and have a subtle animation when customers visit your site – Other than Beamer, Headway and Barelog does this too
Multi-language – Again, none of Beamer's competitors has this
Easy to Embed – Beamer makes it easy to embed your announcements to your site. Whether it's a plain HTML site, Shopify, Drupal, WordPress or even Simvoly, embedding is easy and takes you minutes. Plus, the Beamer team are really responsive and will help you if you encounter any difficulties.
But it is Beamer's upcoming features that blows the competition out of the water, effectively transforming Beamer into the leading announcement app. If you need to, scroll to the top to read the mini-roadmap by Beamer themselves.
Beamer Review: Strengths
I like Beamer. It has a simple but effective dashboard and does announcements as well as changelogs well. This makes Beamer a versatile tool that will work with some online ideas I have. But Beamer's main strength is their laser-like focus on being the best announcement tool out there. This helps it move beyond the boundary of just changelogs for SaaS companies.
I also like Beamer for being forward-looking and including some amazing features in their upcoming roadmap. Push notifications and API/integrations with software such as WooCommerce and Shopify makes this a must for any smart ecommerce store owners.
Beamer Review: Weaknesses
Nonetheless, no tool is perfect. And the same goes for Beamer. There are a number of features I hope they would consider, namely:
Markdown Editor
Email Subscriptions – would be amazing with push notifications. Perhaps a MailChimp integration?
No Slack, Asana or Github integration – crucial for SaaS product owners
Custom Domain (coming soon)
However, don't let these discourage you from getting a lifetime Beamer license. The Beamer deal offers so much for a one-off very affordable price of USD 49.
Beamer Review: Use Case
So, if you've reached this point and are wondering if Beamer is for you, read on. Beamer is suitable for the following and more. If you know of friends who might find Beamer useful, please send them this article:
Online Stores / Ecommerce – Excite your customers with upcoming products, deals and limited editions and improve your turnover
Online Education Companies – Keep your students subscribed with announcements of your latest series
Blogs – Keep your readers coming back for more with announcements on your latest articles, reviews, giveaways and competitions. Announcements improve your click rate.
B2C Businesses – Keep your customers updated and excited with your latest product offerings that they might be keen on.
Agencies / other – announce company news and updates, 10 times more likely to be read than an email and get real feedback from your audience
Beamer Review: Conclusion
Beamer is a value for money app for websites, online stores and SaaS owners. And it will only get better with time. If improving user engagement matters to you, don't hesitate to grab a license or more before they raise their prices.
Finally, if you were wondering if Beamer would be around for the long haul, I would say yes. Spencer and team are responsive and open to feedback. Plus, they have an amazing vision for the changelog-as-a-service industry.
[foogallery id="67797″]