GitScrum Review: Best Way to Manage Your Projects
Name: GitScrum
Description: GitScrum is an upcoming Scrum Project Management Tool that will help you manage projects better and deliver better results to your customers/business.
Offer price: 12
Currency: USD
Operating System: SaaS Software
Application Category: Project Management
Price

Scrum Standards

Ease of Use

Mobility

Customer Service
Summary
GitScrum is an upcoming Scrum Project Management Tool that will help you manage projects better and deliver better results to your customers/business.
Pros
Affordable Price allows you to bring in your teammates
Follows Proper Scrum Methodology
Easy to use
Excellent Customer Service
Cons
Doesn't have a mobile app yet
Proper and efficient project management is tough but essential in companies, but more so in multi-nationals and corporations. That's why good project managers are highly paid for their work.
In recent years, Scrum, an Agile Project Management methodology has increased in popularity beyond its traditional sphere of software development. Nowadays, even banks are into Scrum and Agile Project Management.
But Scrum is confusing, no? What exactly is Scrum? If this is a new term for you, you might want to read on. Otherwise, feel free to go to the following segment.
GitScrum Review: What and Why Scrum?
In short, Scrum is a type of Agile Project Management. Started off as concepts by Hirotaka Takeuchi and Ikujiro Nonaka, Scrum as an idea was then fine-tuned by Ken Schwaber and Jeff Sutherland.
Scrum has since burst into the limelight with 68% of software development teams actively applying Scrum Methodology to their software development process.
In the State of Scrum Report 2017/2018 by Scrum Alliance, it is reported that other than the IT Department, Scrum is gaining traction in the following departments too:
Operations / Production – 42%
Research and Development – 31%
Sales and Marketing – 25%
Content Development, Management – 24%
Consulting – 22%
Human Resources – 19%
Financial or Accounting – 18%
Scrum has also shown an eighty over percent improvement over the quality of life of the respondents, with 71% of executives valuing Scrum-based projects for delivering value to the customer.
GitScrum Review: An Introduction
However, if Scrum Methodology has such traction, why don't we hear more on the tools that lets us apply Scrum in our projects?
Unfortunately, this doesn't happen because most tools are tightly coupled to software development companies and hardly do any marketing beyond this sphere. Also as you will see later, majority of them are pricey and difficult to use.
I first heard GitScrum in the MartechWise Facebook Group, as Renato, the founder posted up a lifetime deal for GitScrum.
After that, came a few days of testing out GitScrum along some Scrum and non-Scrum project management apps, I'm glad to make GitScrum will be my primary project management app from now on.
Read: Ora Review – Project Management on Steroids
GitScrum Review: First Impressions
GitScrum comes across as easy to use, though lacking in certain features. But these features are on the roadmap and will be delivered in a few months time.
Unlike other lifetime deals which can sometimes be in the alpha or beta phase, GitScrum is a fully developed application with six hundred over commits and a few hundred thousand lines of code. GitScrum is fully workable and will only get better as Renato and team improve the app base on user feedback.
GitScrum looks great off the shelf with a logical layout that makes it easy to be productive in. I find it refreshing as the common Scrum terms are all within a click of the mouse button. Launching a sprint and ensuring relevant tasks are within the sprint, are well thought out and helps me be more productive as I juggle between multiple projects.
Before I bore you, here's some screenshots of GitScrum, that you might find helpful.
And here's a summary of the strengths and weaknesses of GitScrum. If you're short of time, this might help you make your decision.
Strengths & Weaknesses of GitScrum
Strengths

Easy to use
Follows proper Scrum methodology
Planning Poker is coming soon
Lifetime deal is amazing value for money
Has a Scrum board
Includes the ability to upload files
Sprint Templates are coming (which is good for similar recurring projects. e.g: Website Development, SEM, SEO, SMM)
Affordable at normal pricing

Weaknesses

No IDE issue tracking
No other type of views (e.g: Kanban board)
No marketplace for third-party apps
Not as well established as other project management apps
UI/UX is not bad, but can be better.
GitScrum Review: How Does GitScrum Compare?
Should you get yourself a copy of GitScrum? In this review, I compare GitScrum with two sets of project management apps so that you have a better overview.
Firstly, are Scrum Project Management Apps. There are already established players in the field, some costing several times more than GitScrum.
Secondly, are some selected Project Management Apps of interest, including Asana, Plutio and Click Up.
GitScrum Review: Compared to Scrum Project Management Apps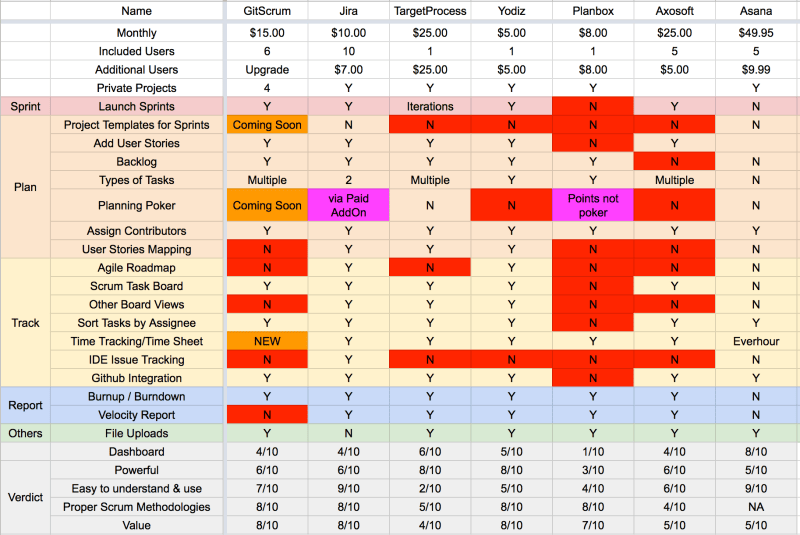 Compared to established Scrum Project Management Apps such as Jira, Axosoft, TargetProcess, Yodiz and Planbox, GitScrum does well.
GitScrum comes in a close second to Jira in terms of ease of use and proper Scrum methodologies. In comparison, while the other competing project management apps don't lack in functions, they sometimes lack in usability.
In fact, TargetProcess is a powerful tool with multiple views. Powerful? Definitely so. But it takes a rocket scientist to understand how to get started with it. In comparison, getting started with Jira is the easiest, followed by GitScrum.
Axosoft is good, but doesn't really follow proper Scrum methodology, while Planbox could do with better than their simplified layouts. Planbox's dashboard and other pages are mostly bare.
This leaves us with Yodiz, which looks great and has most of the features we are looking for. But like the others, Yodiz needs to be more user friendly.
For now, GitScrum lacks in project templates and the ability to have a planning poker, which would help you create projects easily (Project Templates) and then estimate the amount of hours needed to complete the various tasks (Planning Poker).
GitScrum Review: Compared to Others
Compared to general project management apps such as Click Up, Asana and Plutio is interesting as most of them carry out project management in different ways. That's not to say that GitScrum (or Jira) is better, but having a well thought out system like Scrum, does makes project management more organised.
GitScrum vs ClickUp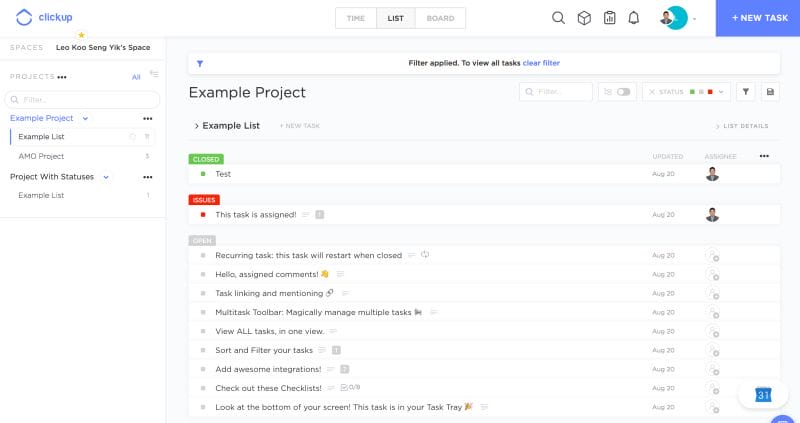 While I like ClickUp's interface, it is not easy to have an overview of my projects on ClickUp. In comparison, with Asana, GitScrum and Jira, I could easily see progress and details of multiple projects.
ClickUp's project management comes across as a list of items with tasks and subtasks that we could assign various statuses to, other than the default Open and Closed status.
Though ClickUp has a board view, the lack of detailed reporting for completed tasks and tasks remaining, makes it hard to track individual and team performance. While the Box view might suffice for some, I still prefer a burndown chart and a velocity report, that proper scrum project management apps come with.
However, if reporting isn't that important to you, ClickUp has certain cool features which might tip the scale in their favor. This includes:
Integration with Google Drive
Natural Language Processing
GitLab/GitHub integration
GitScrum vs Plutio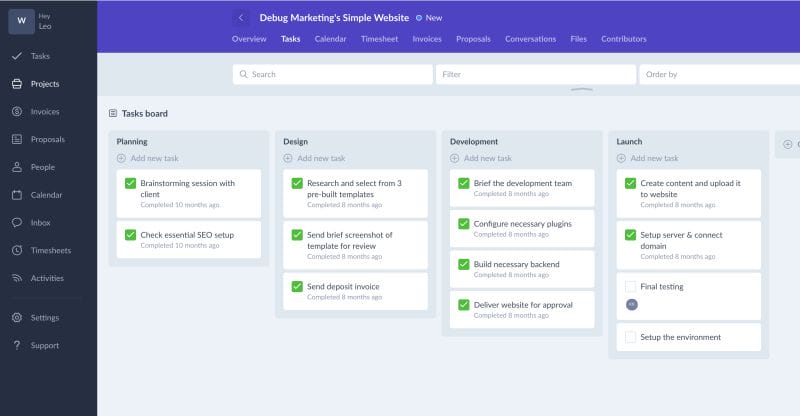 I've been a Plutio lifetime deal user ever since the deal landed on AppSumo. But Plutio's project management ability is kind of basic. All we could do is create task groups and then create individual tasks within that group. Or create more task groups.
As such with Plutio, a large project can get long and draggy. It is a never ending process of adding more task groups and tasks to the new task group.
In comparison, Scrum-based project management tools like GitScrum and Jira, we will do a two to four weeks sprint before a retrospective. This helps us inspect what went well and what didn't, and how could we optimise our process. Or work out kinks. Plus, perhaps take a break in between.
Reporting is almost non-existent in Plutio, with the only evidence being the ticks on the task itself. Plus, sub-tasks are not easily shown.
Personally, Plutio's project management ability seems quite elementary and might suffice for smaller projects. But give GitScrum a try if you plan to manage more complex projects.
GitScrum vs Asana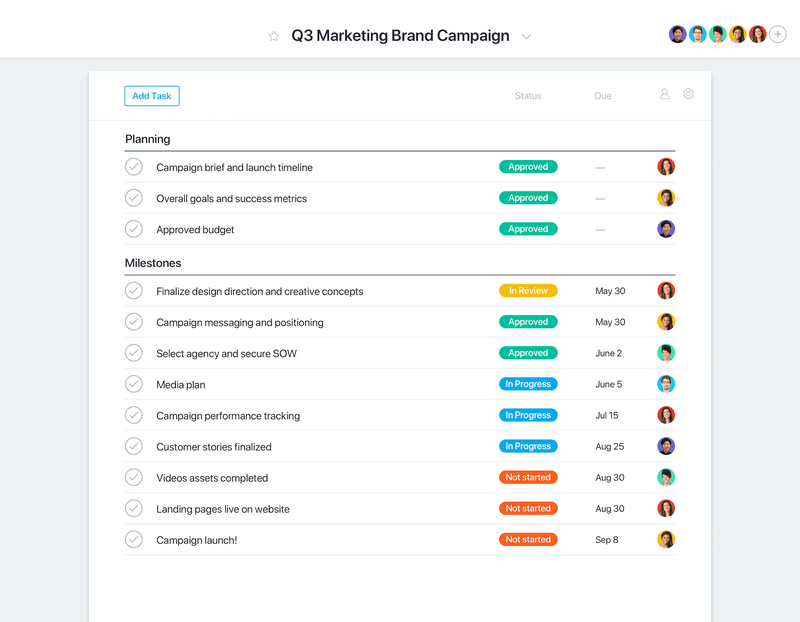 No task management app comparison would be complete without mentioning Asana, one of the top Project Management Apps in the world.
Asana has only two types of project layouts. Lists or a Kanban-like board. You can't use both of them together but need to decide from the start of the project on which layout better suits the project.
Asana is a joy to use with its beautiful and well thought out interface. However, I find managing a larger project in Asana limiting. Again, I blame my background in doing projects with Scrum, and it might not be the same for you.
Compared to Asana, GitScrum could pick up some UI/UX ideas, which will make it a better project management app long term.
GitScrum Review: Conclusion
GitScrum is a powerful Scrum project management app which will only get better with time. Grab yourself a lifetime license today before the offer for lifetime licenses ends.