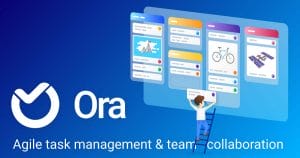 Name: Ora
Description: Ora is a brilliant project and task management app. The Active Sync feature itself makes Ora worth the buy. Add in the ease-of-use and Scrum methodology and you have a winner.
Offer price: 39
Currency: USD
Operating System: WordPress
Application Category: Project Management
Convenient Features and Scrum Standards

Ease of Use

Price

Portability
Summary
Ora is a brilliant project and task management app. The Active Sync feature itself makes Ora worth the buy. Add in the ease-of-use and Scrum methodology and you have a winner.
Pros
Powerful
Proper Scrum Project Manager
Beautiful
Cons
Limited Seats
Can get expensive
Desktop App doesn't have push notifications
Are you overwhelmed with tasks, details and deadlines for projects? You have tried Google Sheets, but find switching between sheets is frustrating. And slow. Or perhaps you tried some professional project management apps. Like Asana, Jira and Wrike. But the monthly fees are killing you as you have a team to manage. If that is you, read on as we do a review on Ora, the Agile task management app on steroids.
Ora Review: An Introduction
Agile Project Management is a growing discipline among many fields. Once used by developers, many sectors are embracing it due to improved productivity.
But software that works well with Scrum are usually expensive or awkward to work with. In the recent months, we had discounted deals for some task management tools on AppSumo and off it. These include Yanado, Plutio, Notion.so, Clinked, GitScrum and others.
Read: GitScrum Review
Interestingly, GitScrum was the only lifetime app that focused on Scrum. It was also the only one with unlimited users and projects at an unbeatable price. Though GitScrum's prices has increased over the past few months, it is still worth buying.
That is, until the arrival of Ora.
Then came Ora
Like a thief in the night, Ora arrived on AppSumo without much fanfare. And as with other AppSumo deals, the Ora lifetime deal is available for short period of time.
We started trying out Ora after seeing many comments and questions on it. Some of these questions asked how Ora compared with GitScrum, ClickUp and others. And we wanted to answer your questions.
So we bought Ora, created projects and did our comparison. We compared Ora with our favourite tools, ClickUp and GitScrum. And then we threw in Jira, a popular Scrum tool among web developers and digital agencies.
Were we impressed? You bet. Ora comes across like a love child of GitScrum and ClickUp. It has both the Scrum focus of GitScrum and ease of use of ClickUp. Of course, it isn't perfect, but it fills in the gaps on both ClickUp and GitScrum.
But should you get GitScrum, Ora or ClickUp? We address those below as we go through our criteria.
Ora Review: Why Ora
Our view on project management apps changed as we handle more projects. As of now, we look for a certain set of criteria as a measuring stick to decide which app to use and recommend.
The criteria are below, in no particular order of importance. As usual, we list these criteria because it works for us.
Features & Standards – Is it convenient to use the app? How much Scrum can we do with the app?
Ease of Use – Is it glaring? How many clicks do we need to create projects and tasks?
Price – Can we afford it?
Portability – Do we have native desktop and mobile apps?
For this review, we tested and updated our project management comparison table. It now compares GitScrum, Ora, Jira and ClickUp. It is interesting to note that Ora is the most complete of the four project management apps in our table. But, that's because we are looking at certain criteria and not due to the other apps being weak.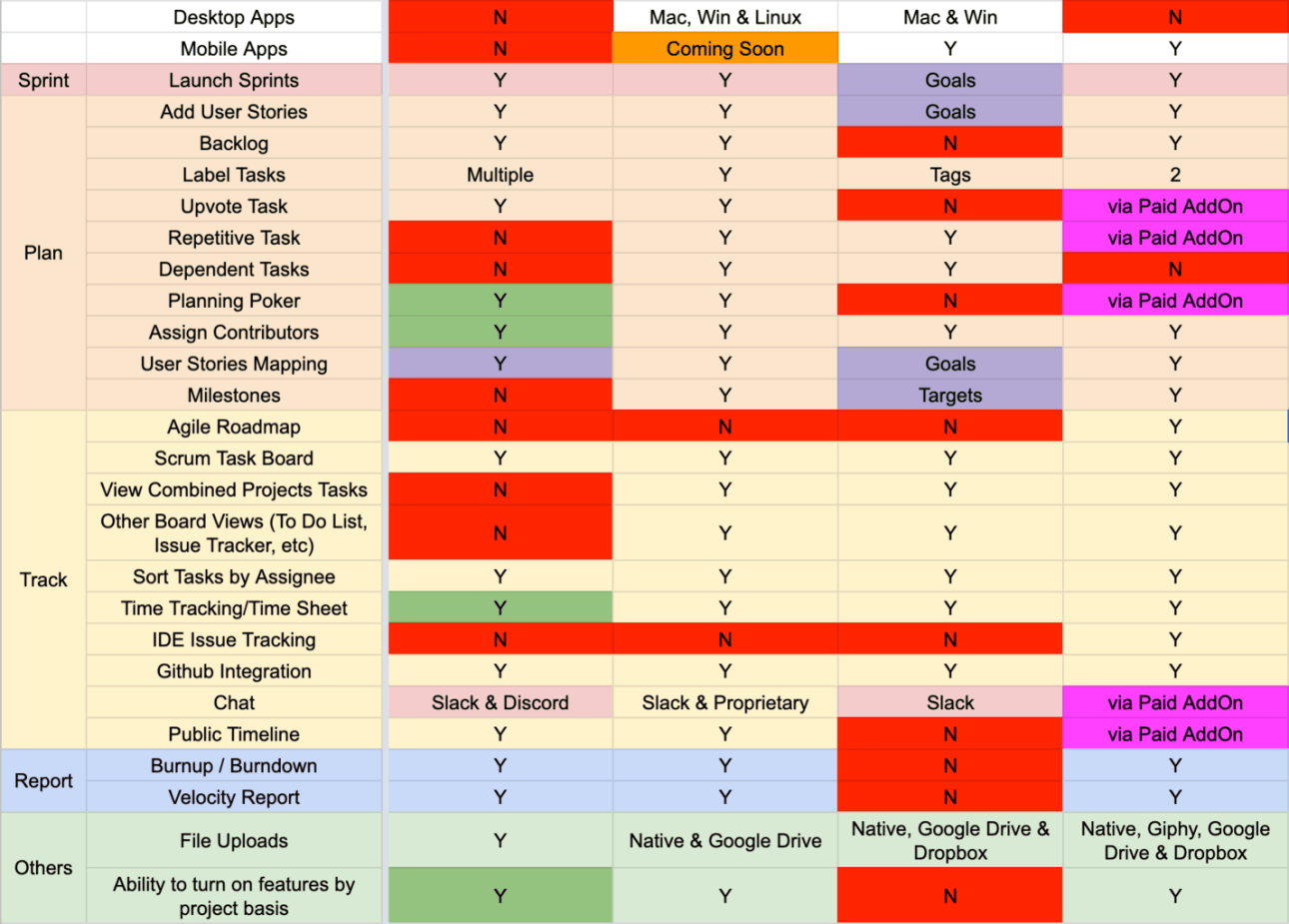 1) Ora Review: Proper Features & Standards
We combined both features and standards, as it is hard to separate both. When we say standards, we mean Scrum. Can we use the app to do Scrum and run Sprints? Thus, while ClickUp has more convenient features, GitScrum focuses on Scrum.
Ora impressed us though by doing both well. It lets you do Scrum while including convenient project management features. These includes:
Repetitive tasks
Dependent tasks
Planning Poker
Combined Project Tasks
Other Board Views
2) Ora Review: Ease Of Use
Our next criteria is ease of use. This covers the user experience and user interaction with the site. Is the app easy to navigate around? Will it frustrate the users if they use it daily? We like Ora's beautiful, uncluttered interface, which makes it intuitive to manage projects. Ora even has an on-boarding tool for each new section.
The information intersperses with a good use of space. It looks clean and other sections is reachable via a click or two. This contrasts with ClickUp and GitScrum, which feels a little overwhelming at times.
But, Ora isn't perfect. Ora's list mode isn't as comprehensive as ClickUp. If your project with many sections, you will need to go through each section's list instead a unified list.
But, Ora also has a 'My Tasks' view, which shows your tasks. Plus, you can see the performance of your team mates.
At the time of writing, we still couldn't figure out how to assign user stories to a sprint or vice versa. This is easily found on GitScrum and Jira.
These shortcomings does not takeaway from the fact that Ora is well made with much thought and love. By combining an easy-to-use, simple interface with enough details, Ora looks attractive.
3) Ora Review: Price
Our third criteria is the price. This is crucial because unreasonable pricing can derail a great app.
At Regular Prices:
At regular price, Ora can get pricy. At $8/user per month, a team of ten would set you back $80/month.
In comparison, Jira and GitScrum both offers a flat monthly price for up to ten users. Jira's add-ons though, pushes your subscription prices up and it can get expensive, fast.
This leaves GitScrum as our recommended app for teams on a budget.
At Lifetime Prices:
At lifetime prices, Ora becomes much more reasonable. You only need $39/life for two users on the Enterprise tier. This would usually set you back $40 per month.
You can even stack five codes ($195) to get ten users for life.
If you manage a larger team though, you might want to consider GitScrum (unlimited users at $299). For Ora, you will need to pay $6/mo for every other user you need for your team.
Ora allows unlimited observers that can see, vote and comment on tasks though.
Personally, Ora makes the better choice for smaller teams. Especially if your team manages regular recurring tasks and handles projects.
Furthermore, Ora's lifetime deal is ending soon. But if you have a bigger team or do weekly sprints, GitScrum would be better.
4) Ora Review: Portability
Our final criteria is portability. Native desktop and mobile apps helps with access, push notifications and the ability to work offline.
While Ora has native desktop apps, it lacks of push notifications and the ability to work offline.
Nonetheless, it is still good as most project management apps don't even have a desktop app. With mobile apps arriving soon, project management on Ora, will be easier.
5) Ora Review: Something Extra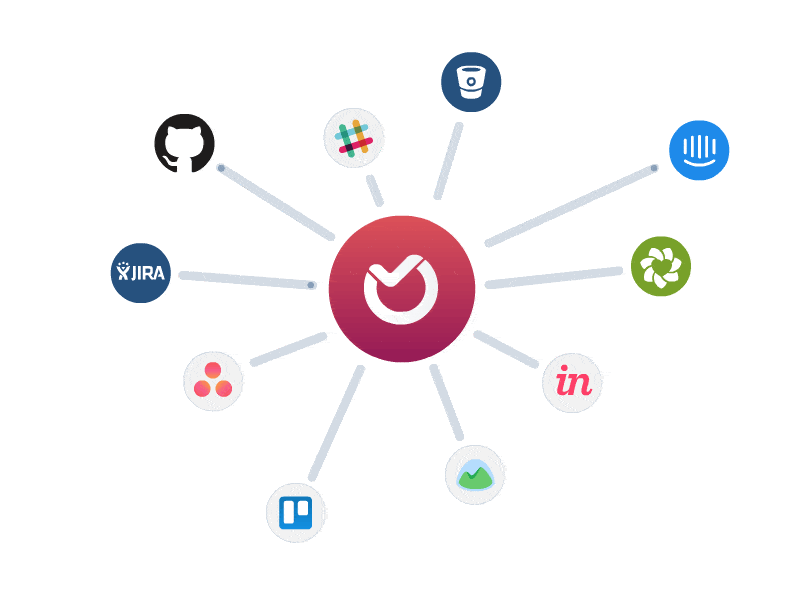 In the course of writing this review, we found out about Active Sync. And boy, Active Sync is a game changer for Ora.
Active Sync allows Ora to sync between different third party task management services. This includes Github Issues, Jira, Asana, Trello, Basecamp and more.
This cuts down the need to learn the different project management apps on new projects. This usually happens because teams usually have their project management apps of preference.
With Active Sync, you can be in a team that manages their projects on Asana, and manage your own tasks on Ora. This improves productivity and reduces friction.
We can't wait for Active Sync to arrive on Ora soon.
Ora vs GitScrum
We like both Ora and GitScrum, so this is hard for us. But Ora seems ahead of GitScrum at the time of writing. Especially with the various convenient features that GitScrum lacks. And the user interface.
But with GitScrum's new interface coming soon, things could change fast. We like GitScrum's generous lifetime unlimited users deal. And Renato, GitScrum's owner, is open to suggestions on improving GitScrum.
If you have the cash, we recommend buying both.
Ora vs ClickUp
ClickUp has added some features since our GitScrum review back then. We prefer Ora to ClickUp due to its focus on Scrum and its lifetime price.
Furthermore, with Ora's convenient task management, subscribing to ClickUp seems unnecessary.
Bonus Tools to Consider
One tool that caught our attention recently is Milanote. While not strictly an agile project management tool, Milanote's flexibility means you can have scrum boards and more, all within a single app.
Ora Review: Conclusion
Ora is a brilliant project and task management app. The Active Sync feature itself makes Ora worth the buy. Add in the ease-of-use and Scrum methodology and you have a winner.
We recommend that you grab yourself an Ora license while the lifetime deal is still live. If possible, grab five codes for ten users on your team. When your business is bigger, you can easily add more users at an affordable rate.
We fully recommend Ora.