Awario is a social media monitoring tool. That means it helps you monitor mentions of your desired keywords on various social media channels like Facebook, Twitter and Youtube. Personally, I purchased Awario due to the available lifetime offer as well as my positive experience with Link-Assistant's other products.
If you didn't know, Link-Assistant is also behind the excellent and powerful SEO Powersuite tool that many SEO professionals swear by. Personally, I use the Website Auditor app often to find and patch technical SEO issues for my web development work.
Introduction to Social Media Monitoring
Social Media Monitoring is an important task if you run a business. It isn't just the task for a big brand but small businesses as well. How so? Let us look at the following situations where you need some social media monitoring tool.
Upset customers – Find out fast and respond immediately before the matter escalates.
Find Business Opportunities – Find out what people are looking for and who and where to promote products to. Respond to people looking for your products/services.
Competitive Analysis – Compare your social media mentions compared to competitors via a powerful dashboard (e.g: Amount of mentions for Coca Cola vs Pepsi)
Find Influencers – With a social media monitoring tool, you get to find relevant top social media influencers who are already a fan of your products/services. Then incentivize them to talk more about your brand.
As you can see, monitoring your social media channels is crucial in this hyper connected world that we live in. No matter the size of your business, failure to respond to a negative issue could cause it to spiral out of control within a few hours.
As a small business owner myself, I find social media monitoring refreshing as well. With the ability to find business opportunities as well as respond to people looking for the keyword, 'web developer', I get to grow my business doing what I love.
Awario Review: What problem does it solve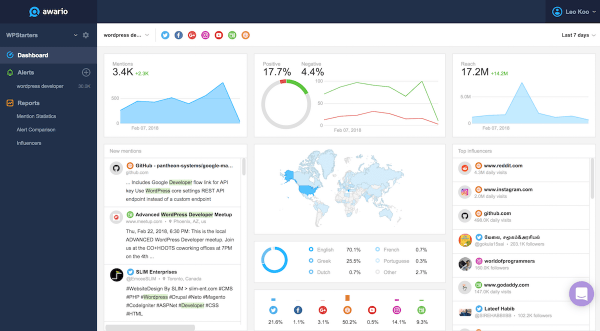 Now that we have established why we need social media monitoring, one common question is, 'Why do I need a social media monitoring tool when I can monitor social media channels myself?'
The truth is, you can't really monitor social media channels on your own.
There is a ton of web pages and social media profiles out there. As such, it is impossible to keep track of so many pages by our browser. We need proper social media monitoring tools that listen to these pages for mentions of your brand/keywords.
Here is where Awario comes in.
Awario vs Competitors
Awario's main competitors have been in the market for sometime. Some are very established, while others are still new, like BrandMentions. Let us list the competitors and their comparative price points for similar features
Awario – 20 alerts, 200,000 mentions/month, Sharable Analytics & Reports – $69/month
Brand24 – 10 alerts, 400,000 mentions/month, Sharable Analytics & Reports – $99/month
BrandMentions – 3 projects, 10,000 mentions/month, Sharable Analytics & Reports – $79/month
Mention.com – 5 alerts, 5,000 mentions/month, No reports at this price – $99/month
Talkwalker Alerts – 100,000 results/month, Reporting available with add-on price – $1500/month
As you can see, Awario's closest competitor in terms of value is Brand24. BrandMentions looks interesting but it's pricing is way out of my budget. Especially with the amount of mentions provided monthly.
Mention.com, an established player is expensive as well, though nothing beats Talkwalker Alerts, which goes at $18,000 a year! Compared to both Mention and Talkwalker, Awario is really affordable.
Plus, due to Awario's background in providing the powerful SEO PowerSuite, their custom crawler does a great job in tracking mentions at a really affordable price while ensuring quality is maintained.
I foresee Awario to continue improving in the future with cutting edge features on the horizon. With a cash cow in SEO PowerSuite, Link-Assistant will be able to invest time and resources to improve Awario further and make it the best Social Media Monitoring tool.
Awario Review: How Do I Use Awario in My Daily Work?
In my daily work, I use Awario to find mentions of my products as well as mentions I'm interested in. Like 'Web Developer' or 'WordPress'.
Though I'm still new to this, I have been able to send out a number of replies to potential customers looking for my services. As such, I find Awario really useful for my daily work.
Awario Review: Should You Subscribe to Awario?
If you run a business or even a government department, Awario helps you sift though tons of social media profiles and returns the relevant results.
If you run or plan to run a digital agency, Awario helps you manage the social media profiles of your clients. Rather than just posting/reposting, you can also promptly respond to questions, tweets and comments by customers. This improves your clients' reputation as well as makes you invaluable to them.
Awario Review: The Conclusion
Awario is an interesting piece of software. In this Awario review, I have been thoroughly impressed by Awario's ability as well as the doors it opens up for me and my business. Do grab yourself a copy before Awario's prices go up.