FlowMattic Review
Value for Money

Number of Software Integrated

Potential

Customer Support

Ease of Use
Summary
FlowMattic is a WordPress Automation plugin that lets you connect various WordPress plugins and SaaS apps together. With no limits to the number of workflows and actions you can deploy, plus innovative integrations such as WhatsApp Cloud API, FlowMattic has the potential to be the best automation plugin for WordPress.
Pros
Integrates both WordPress and Saas Apps – Is being developed at a fast pace
Responsive team and great customer service – WhatsApp Cloud API integration.
Cons
Limited integrations
Lacks multi triggers
This is a review of FlowMattic, a fairly new WordPress automation plugin by InfiWebs. InfiWebs has been actively building premium WordPress plugins since 2014 and has been well received by the community in CodeCanyon.
As a WordPress developer, I've bought, tested and used hundreds of WordPress plugins and hosted SaaS apps. In many cases, these software are then put in use when we build sites for clients and run their digital marketing campaigns. This means I try to be as unbiased as possible while reviewing products, as I sincerely do want to know if the product is a good fit for me, my agency and my readers.
FlowMattic is an interesting WordPress automation plugin that piqued my interest. Would it be able to help me automate my plugins and apps and how easy will it be? Would I be able to implement FlowMattic for my clients and would readers like yourself, be able to use it well? These were the questions I asked myself while writing this article.
Hence, in this comprehensive FlowMattic review, we will look at what is FlowMattic, it's features, competitors and how do you setup a workflow automation using the FlowMattic plugin.
Let's get started.
Product Overview
What does the product do?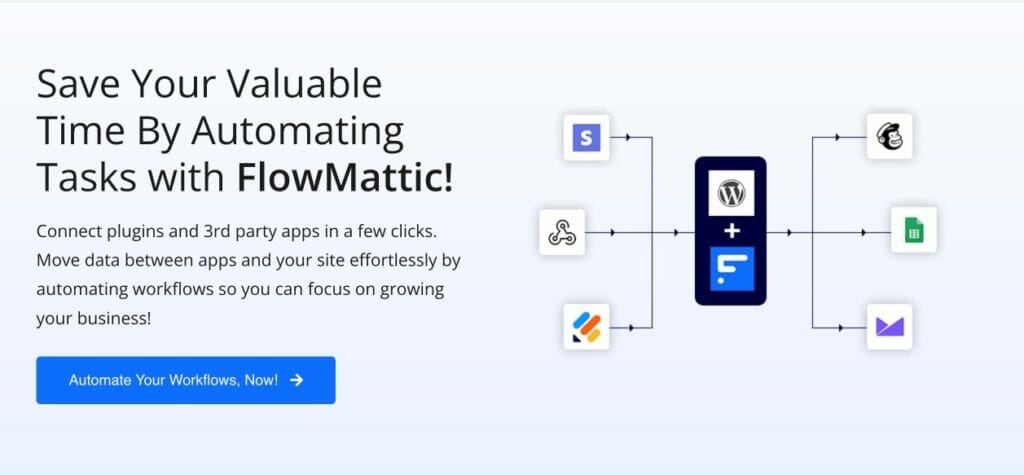 FlowMattic is a WordPress automation plugin that connects WordPress plugins to 3rd party SaaS apps and allows real-time data transfer. This allows various software to talk to one other cuting down the need to custom and expensive integrations nor to do the tedious work of moving data manually from one app to another.
How does this work? Let me give you an example. Imagine if you run an established counselling center with multiple counsellors. To manage the bookings, you install a booking system with a payment gateway. You also have a CRM system, so that you can record all your clients' needs and what has been discussed, prescribed or done for the client.
The old way of doing things was to manually transfer all these data. This means you might need to hire a staff or two to perform some boring tasks. Plus, they might mess up.
With FlowMattic, you can connect your booking system to your CRM, effectively cutting down on manpower and making your counselling center business more effective.
On top of the examples given, FlowMattic connects to a host of other WordPress plugins and apps, including as the following:
Ecommerce Platforms
Email Marketing Software
Page Builders
Payment Gateways
As FlowMattic is still new and the developers are aggressively adding new automation every two weeks or so, the sky is the limit when the plugin matures.
FlowMattic comes across as something in between Zapier and the Uncanny Automator plugin. While Zapier focuses on integration between apps, while Uncanny Automator focuses on integration between WordPress plugins. FlowMattic bridges the gap by being a WordPress plugin that does a lot of app integration.
Nitin of InfiWebs has also mentioned that they will do more WordPress integrations in the future.
If you have some web development skills, FlowMattic comes with webhooks and API, making it easy for you to integrate software not listed in FlowMattic's website. You can also build and call out your own custom PHP functions from FlowMattic, giving it even more possibilities.
Is it good? Why?
Automation software like FlowMattic is always good, as it helps busy people save precious time and money on tedious tasks. FlowMattic comes with a different set of integrations compared to Uncanny Automator, Integrately and Pabbly Connect, my goto automation tools.
Features
1) Unlimited Automations
What makes FlowMattic shine compared to hosted automation platforms like Zapier, Integromat, Pabbly Connect and Integrately, is the fact that you get unlimited automations at no extra cost. This means, you can go about creating as many workflows and executions without worrying about your wallet. Rather, the only cost is your server.
2) Webhooks & API
While this isn't unique to FlowMattic, webhooks and APIs are essential for an automation software and FlowMattic has both. This means, those of you who are tech-savvy can integrate apps yourselves.
3) Multistep Workflows with Scheduling and Delay
It isn't enough to just integrate two apps. While that is good, even better would be multistep workflows, meaning the ability to chain apps together via a number of steps. This means, I could do things like integrating Tomba (a Hunter.io competitor) to my contact form plugin, in order to verify emails, before sending the verified email over to Google Sheets.
Scheduling and Delay brings your workflows to the next level as not all data needs to be sent over immediately.
4) PHP Functions Module
I like this feature very much. With the PHP functions module, we are able to create and call out our custom developed PHP functions from FlowMattic. This means, we can work the data before passing it to the next integrated app. I'll definitely be exploring this further.
Hands on with Flowmattic
FlowMattic is a joy to work with as it is easy to get started. Being new to the world of automation, I was nervous about getting my first non-Zapier automation off the ground. And creating an automation with FlowMattic was easy.
1) Installing the integrations you need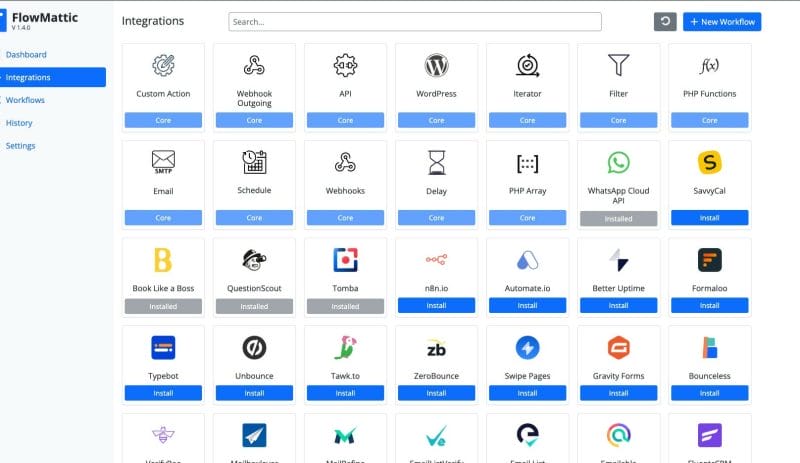 To get started, we need to first install the integrations we need. In this case, I had access to apps such as Book Like a Boss, QuestionScout and Tomba, which I installed the integration for
2) Set up workflow by connecting the various apps you need
In this example, I connected ThriveDesk (which I have a real use-case for) with Tomba in order to verify the tickets. I then integrate Google Sheets, so that verified emails will automatically be appended as a new line on Google Sheets.
The entire workflow setup process took me around ten minutes to setup and verify. It took longer as FlowMattic asked for the webhook secret key from ThriveDesk, which I couldn't find. But once that was settled, the workflow was easily done.
Review of my hands-on experience with FlowMattic
If you have not used Zapier before, setting up an automation will seem scary at first. I was scared (and yes, I'm a web developer). But it is easy to setup. Over the past two weeks of testing out FlowMattic, I've noticed that the team has rapidly updated the plugin with more integrations and features, which is a healthy thing.
I've also reached out to Nitin, the founder of InfiWebs a couple of times to pepper him with questions and he has been responsive. Overall, in doing my FlowMattic review, using the plugin has been a breeze.
Alternatives to FlowMattic
Should you buy FlowMattic? Are you comparing FlowMattic with alternatives? I've compiled a list of close competitors to FlowMattic and done some research on how it compares.
Alternative 1: Zapier
Zapier is the granddaddy of automation and also the best. It is also expensive. The free version lacks multistep, which hinders you from building powerful workflows. However, you might want to stick with Zapier due to the sheer number of apps it is integrated with.
Compared to Zapier, FlowMattic offers you unlimited workflows and actions for a fixed price. This means, if you can find the apps listed on FlowMattic's integration list, you can save a pretty penny going with FlowMattic instead of Zapier.
Alternative 2: Uncanny Automator
If you run a WordPress site, or worse, run a WordPress development agency (like me), then Uncanny Automator (and it's competitors, WP Webhooks and AutomatorWP) might be a better solution due to the number of WordPress plugins Uncanny Automator is integrated with.
Uncanny Automator also comes with the ability to delay or schedule actions, just like FlowMattic. It also has the powerful multiple triggers feature, which FlowMattic doesn't yet have.
Uncanny Automator doesn't integrate much with apps, unlike FlowMattic, hence it will be interesting to see where this pans out in a year or two.
Alternative 3: Pabbly Connect
Pabbly Connect is an amazing automation software that is affordable, good and has tons of integrations. They are by the Magnet Brains team and has come a long way. And the best thing is, the lifetime license for Pabbly Connect can still be bought.
While Pabbly Connect is much more matured than FlowMattic, it doesn't give you unlimited workflows, actions and automations. Nonetheless, Pabbly Connect is a very viable alternative to Zapier.
Frequently Asked Questions
What is a workflow?

A workflow is what we call the process of sending information from one app (or plugin) to another. It can be a workflow between two apps, or a multi-step workflow, whereupon we have more than two apps.

What is a trigger?

A trigger is an event that starts a workflow. This means things like, when someone subscribes to the newsletter or when someone fills in the contact form. Or when there is a confirmed order on the online store, in this case, WooCommerce.

Is FlowMattic a plugin or an app?

FlowMattic is a WordPress plugin. This means, you will need WordPress in order to use FlowMattic.

Is there a lifetime license for FlowMattic?

There are no FlowMattic lifetime licenses for sale right now.

Can someone help me setup my FlowMattic workflows?

Best to contact the InfiWebs team for this. They might have some vendors who will be willing to do so for a certain price.
Pricing Plans
At the time of writing, FlowMattic is priced affordably. You can choose between the single site license, unlimited sites or a couple of options in between. There is no lifetime deal for now.
$59/year – 1 site
$149/year – 10 sites
$199/year – 25 sites
$249/year – 100 sites
$399/year – Unlimited sites
FlowMattic Review: The Conclusion
FlowMattic is an upcoming automation plugin that could potentially bring WordPress to the next level. While it is still early days for the plugin, Nitin and the InfiWebs team has shown much tenacity and ambition to grow the plugin. As the InfiWebs team has a few successful plugins under their belt, they will be able to put in the resources to grow the plugin to the next level.
It is a good time to get yourself a license while the introductory prices are still up and still affordable, especially if you can put the plugin to use immediately or in the very near future.
FlowMattic Review
Value for Money

Number of Software Integrated

Potential

Customer Support

Ease of Use
Summary
FlowMattic is a WordPress Automation plugin that lets you connect various WordPress plugins and SaaS apps together. With no limits to the number of workflows and actions you can deploy, plus innovative integrations such as WhatsApp Cloud API, FlowMattic has the potential to be the best automation plugin for WordPress.
Pros
Integrates both WordPress and Saas Apps – Is being developed at a fast pace
Responsive team and great customer service – WhatsApp Cloud API integration.
Cons
Limited integrations
Lacks multi triggers