Dukaan Review
Features

Value

Documentation

Customer Service

Potential
Summary
Dukaan is an easy-to-use ecommerce platform that lets you launch your online store in minutes. You get all the essentials you need in an online store with more to come as the Dukaan team is rapidly building out features.
Pros
Easy to get started
Affordable
Comes with an AI product description generator
Also comes with AI powered image suggestion
Product variations
Inventory
Bulk edit products
Generous with staff accounts
Banner generator
Discounts Tool
Comes with mobile apps
Cons
Unable to customize looks beyond changing themes or banner (no page builder)
Limited Payment Gateways
Shipping outside of US requires a premium Shippo account
Automatic taxes by Avalara requires a premium account
No blog
Limited apps in the marketplace
No way to install own JavaScript files
No upsells and downsells
No affiliate marketing program
Cannot customize checkout nor order emails
No digital products, membership nor subscriptions.
Would be great to integrate external sales channels (e.g: Amazon, Lazada, TikTok Shop and POS)
This is a review of Dukaan, a DIY ecommerce platform for non-techy people who want to start their online store. The Indian startup is a proven hit among SMEs and is an easy-to-use no-frills ecommerce platform that helps small businesses sell their products online, quickly.
In this Dukaan review, we will look at the features of the Dukaan platform, how it compares with competitors and a walkthrough of the product.
Dukaan Product Overview
What does the product do?
Dukaan is an ecommerce platform that empowers business owners to set up an online store quickly. It comes with the essential tools an ecommerce platform needs. These include inventory management, shipping and payment gateways.
With Dukaan, you will not have to worry about the troublesome things that come with an online store. Hosting and security, which can be tricky, are all handled for you. This lets you focus on growing your online business.
Dukaan comes with an impressive growing list of third party addons, named as plugins in their ecosystem. These third party plugins add essential functions and features to the online store, including SEO, integration with email marketing services, live chat and even Google Analytics.
Is it good? Why?
Personally, I've tested Dukaan and rate the ecommerce platform highly. It is simple and easy for the non-technical person to understand and manage, negating the need for a developer. Furthermore, Dukaan comes off the shelf with all the essential features to make your online store a success.
Dukaan is well-funded and comes with an ambitious roadmap that is being rapidly worked on by the Dukaan team. As a startup, Dukaan is promising as they have a large team (about 180 people at the time of writing). This enables Dukaan to build features fast and be competitive.
Who is Dukaan for?
If you want a simple online store with all the essential features, that you can DIY without the need of an IT person to manage, Dukaan is good for you.
However, if you are looking for an online store with advanced features such as affiliate marketing, point-of-sales (POS) and sales funnels, Dukaan might not be the right choice for now.
Features
Dukaan comes with a bunch of features worth looking at such as:
Plugins
Product Variations
Inventory Management
Bulk Editor
Staff Accounts
Let's look at the features in detail
1) Plugins
Plugins refer to a marketplace filled with third party addons. These aren't WordPress plugins but are extensions that you can install on your Dukaan store to add features that you need. At the time of writing, there are more than 40 plugins with many more coming in the pipeline.
Now, not all plugins are free. Some plugins are free to install, but you might need to subscribe to the third party application (e.g: OptinMonster, MailChimp and JivoChat). The Dukaan team apps will remain 100% free.
2) Product Variations
Product variations will ensure that you can sell different sizes, shapes and colors of the same product without creating several products with the same description. This makes it easy for you to manage your orders while helping your website's SEO. I'm happy that product variations are part of Dukaan, as there were many older online stores that lacked variable products.
3) Inventory Management
You can ensure that you don't run out of your best-selling products with Dukaan's Inventory Management. I was pleasantly surprised to find that we can even manage the inventory of variable products. What would make it better would be some low inventory notifications on a granular level.
4) Bulk Editor
Every online store worth its salt needs to have a bulk editor. This is because, as the number of products increases, it becomes difficult to keep the inventory correct. Hence, the need for the bulk editor. I hope to see the bulk editor upgraded to enable advanced bulk editing features, including the ability to discount products in bulk. Or to change the status of more than one product, at a time.
5) Staff Accounts
To be honest, Dukaan's 10 staff accounts per store is very generous. Compared to Shopify, 10 staff accounts sit between Shopify's Shopify ($79/mo) and Advanced plans ($299/mo). While you might not need so many staff accounts while starting out your online store, you'll be grateful once your business grows.
Hands on with Dukaan
Setting up an online store is effortless. If you need help, Dukaan has an introduction video, a checklist, tutorial videos, a help center and live chat.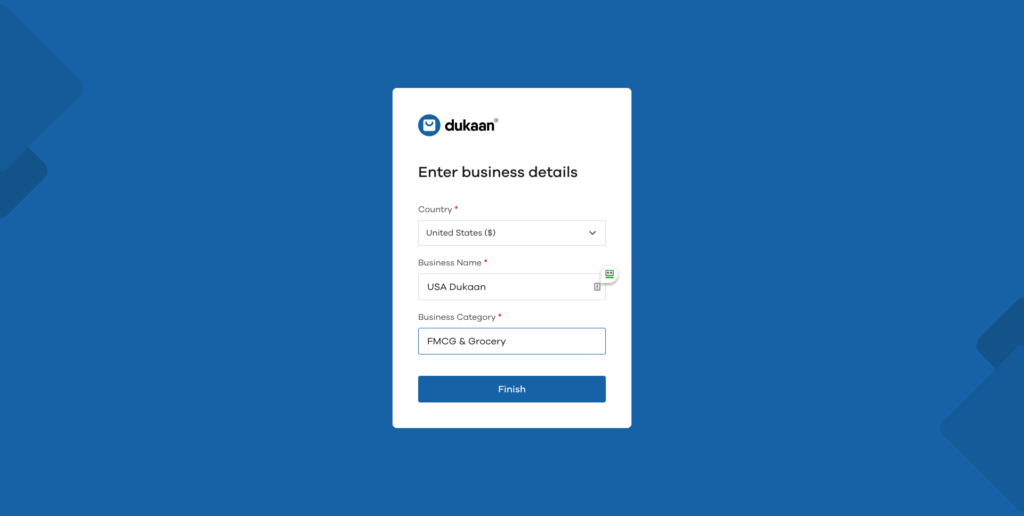 Compared to WooCommerce, my online store was up and running in minutes. I just needed to fill in my business name, country and business category and my store is ready to launch.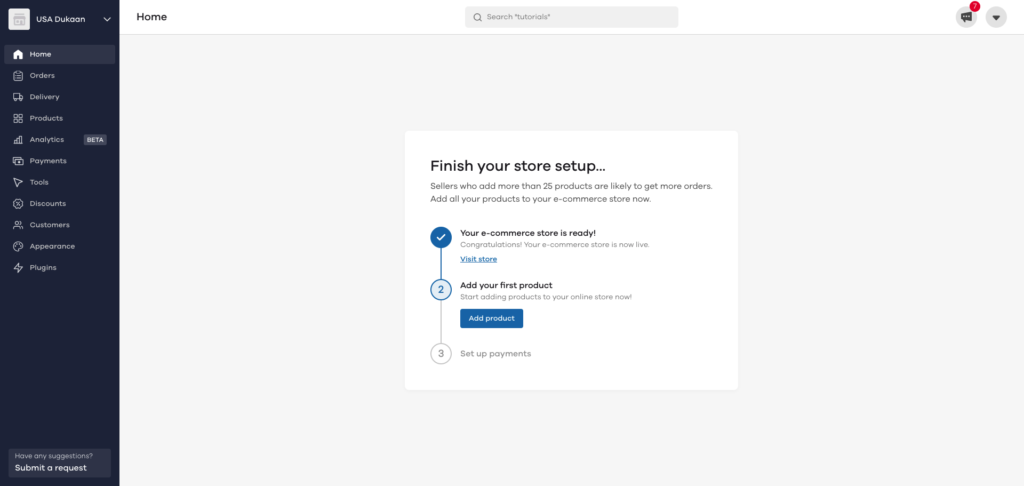 I was then asked to put up my first product. Going to the product page, I realized that we have the option to import products from Shopify. This is useful for those planning to switch out from Shopify.
Adding a product is easy. All I need to do is key in the product name, description, category and price. I can upload my product images and the AI will help me with suggested images.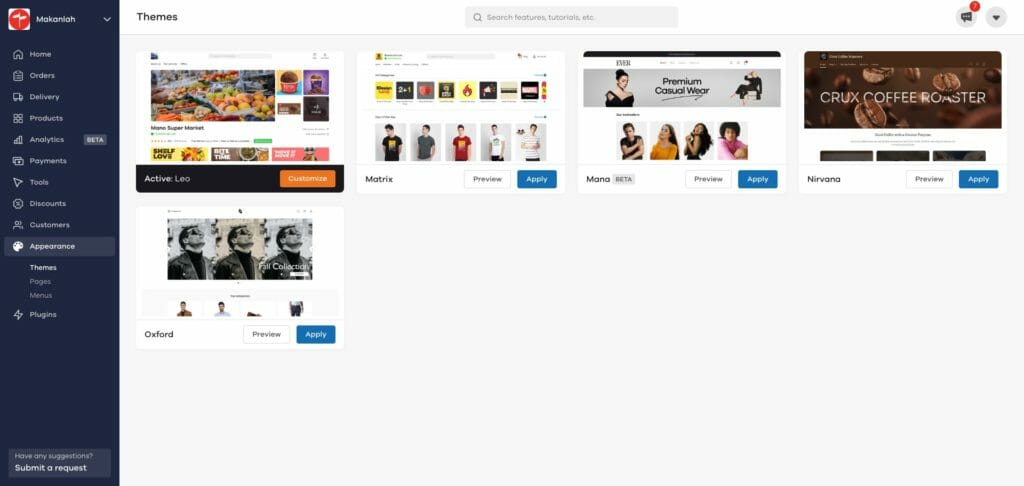 While I would prefer to be able to customize the looks of my online store via a page builder, Dukaan gave me the option to quickly switch between their various free themes. It was seamless and looked good enough for business.
The final outcome looks presentable. Check out my demo store. It looks easy enough for customers to navigate and purchase. Dukaan is great for someone who just wants to get started with ecommerce.
Alternatives to Dukaan
People always compare ecommerce platforms to WooCommerce and Shopify, two of the leading ecommerce platforms out there. Let us take a look at how Dukaan performs.
Alternative 1: Dukaan vs Shopify
Dukaan aspires to be the Shopify of India. Compared to Shopify, which has been around since 2006, Dukaan is much younger (created in 2019). And it shows in the number of apps that Shopify has (7k plus for apps on Shopify vs 40+ plugins on Dukaan at the time of writing)
Dukaan has grown tremendously during the 2020 pandemic as it catered to business owners who wanted to go online
While Shopify is more complete, it is also much more expensive. Subscribing to the apps in the Shopify App Store can cause your cost to increase quickly. And before long, you'll notice that you are being nickel-and-dime for every small thing on Shopify.
Alternative 2: Dukaan vs WooCommerce
WooCommerce is a self-hosted ecommerce platform on WordPress. While it comes with fewer features out of the box, WooCommerce's strength is its flexibility. You can either choose to buy an extension or build one yourself.
Going with WooCommerce means you'll need to buy extensions for some features you get for free on Dukaan. But, the sky's the limit with WooCommerce as you can always look for an extension you need or create one yourself.
Pricing Plans
Dukaan starts at a very affordable price of $99.99 per year. That's less than ten dollars per month. If you prefer paying monthly, it is only $9.99 per month.
Dukaan Review: The Conclusion
Dukaan is an easy-to-use ecommerce platform that lets you launch your online store in minutes. You get all the essentials you need in an online store with more to come as the Dukaan team is rapidly building out features.
With funding from some notable angel investors and VCs, Dukaan looks set for the future.
Dukaan Review
Features

Value

Documentation

Customer Service

Potential
Summary
Dukaan is an easy-to-use ecommerce platform that lets you launch your online store in minutes. You get all the essentials you need in an online store with more to come as the Dukaan team is rapidly building out features.
Pros
Easy to get started
Affordable
Comes with an AI product description generator
Also comes with AI powered image suggestion
Product variations
Inventory
Bulk edit products
Generous with staff accounts
Banner generator
Discounts Tool
Comes with mobile apps
Cons
Unable to customize looks beyond changing themes or banner (no page builder)
Limited Payment Gateways
Shipping outside of US requires a premium Shippo account
Automatic taxes by Avalara requires a premium account
No blog
Limited apps in the marketplace
No way to install own JavaScript files
No upsells and downsells
No affiliate marketing program
Cannot customize checkout nor order emails
No digital products, membership nor subscriptions.
Would be great to integrate external sales channels (e.g: Amazon, Lazada, TikTok Shop and POS)