I have always looked up to Array Themes for their beautiful themes. With meticulously placed pixels and beautiful design, I loved their themes the moment I saw them. But they did not have any themes that integrated with WooCommerce, leaving online store owners like myself in a quandary. We either had to create a child theme and integrate WooCommerce ourselves, or use another theme.
Thankfully, Array Themes just released LensCap, an amazingly beautiful WooCommerce theme that also does well for content marketers. This made us write-up a LensCap Review. Read on for more after the break
Introduction
If you've read articles on Medium.com and found their layout amazing, you are correct. Medium looks great, except you don't own the platform. WordPress, however, allows you full ownership of your own platform, but it's hard to find themes that look that good on WordPress. Or even worse, themes that both look good and has great, extensible code underneath. Until ArrayThemes came along.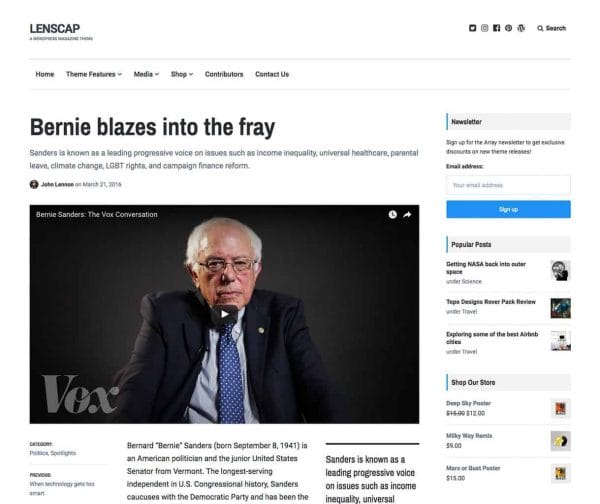 Frankly, I've never seen such beautiful themes for content marketers and bloggers. Mike McAlister is on a crusade to produce pixel-perfect themes and it shows.
Recently, when Array Themes had a 20% discount off their regular prices, I hopped on the bandwagon and bought myself a lifetime membership. That means lifetime access to all future themes by Mike and team, and future updates. But is Array Themes really worth it? And why the LensCap theme?
LensCap Review: Why use LensCap for your online store
If you've noticed recent trends, Google doesn't like sites with thin content1. That means if you run an online store and put nothing else other than products and then copy descriptions off Amazon/Taobao or the manufacturer's website, you risk being penalised by Google. And will find it hard gain enough traction via organic SEO.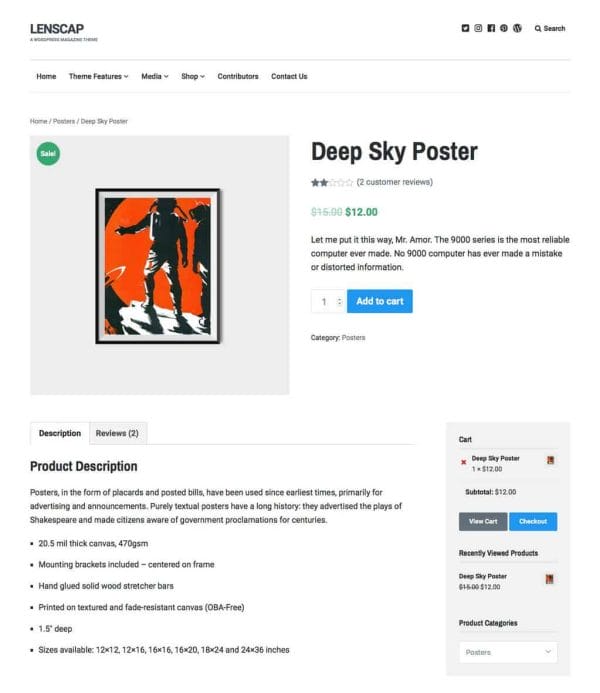 This is compounded by the fact that most WordPress ecommerce themes aren't usually built for content. This gives you a simple looking blog section, that doesn't help promote your content. In comparison, magazine and blog style themes, tend to overwrite most of WooCommerce native styling and hooks, or not implement them well.
Frankly, it has been a frustrating journey for ecommerce store owners who want to do content marketing well. Until recently when Array Themes launched the LensCap theme with WooCommerce support.
With LensCap, you gain a really good-looking site optimised for content and yet, is ecommerce compatible. I like how individual posts look simple and clean. The very fact that LensCap uses the native JetPack related post to feature related posts rather, tells me that Array Themes has done their homework on understanding and implementing WordPress core.
LensCap Review : WooCommerce Compatible
While LensCap excited me, I didn't want to prematurely hope. Many times I've bought themes that looked good for content marketing purposes, only to find them lacking when it comes to official WooCommerce hooks. Buttons would go missing, not properly styled and widgets just don't show up.
With nervousness, I installed and ran LensCap through my suite of official WooCommerce lifetime extensions. These were the latest off WooCommerce.com as I've bought them back when they were new and unknown. I also installed a number of third-party themes from major theme clubs that I've lifetime membership with, in order to come up with a comprehensive test.
Interestingly, while more than half of these third-party themes did badly by overwriting the official WooCommerce hooks or not properly consider certain WooCommerce elements, LensCap did well.
WooCommerce widgets and product pages looked good on LensCap, albeit minimal styling. But it's in this minimal styling that we shave time off to get a fast website that does well with the search engine ranking position. If you didn't know, the speed of your site does influence your content marketing result as well.
LensCap Review: Built For Content Marketers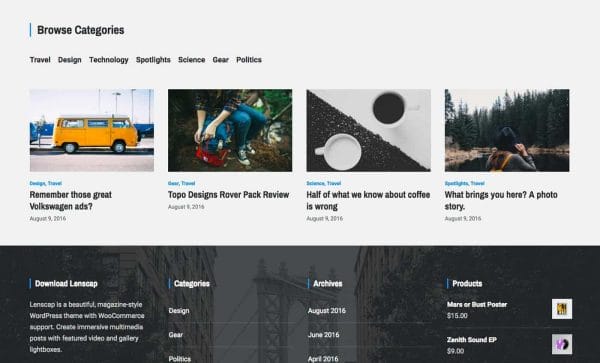 LensCap is built with content marketers in mind. While the startups talk about traction, the best traction comes when you combine social media marketing with solid, valuable content.
LensCap makes the task of consuming the content, easy for your readers. It comes with the little things that make reading an article on LensCap easy. The fonts are well placed, while the previous and next article lingers as you scroll down.
Interestingly, LensCap is the latest of many beautiful themes by Array Themes. And with each new theme, they get better.
LensCap Review: No bloat
While many themes on ThemeForest comes with built-in support for Visual Composer, Array Themes doesn't. This is good because Visual Composer is known to break WordPress plugins due to a lack of proper WordPress coding standards.
If a theme is heavily invested in Visual Composer, you tend to get extra scripts loading, causing your site to load slowly as well. This affects both the user experience and Google's search engine ranking position results.
Rather, LensCap looks great off the bat. But if you would like to create a landing page, perhaps you can consider buying a Beaver Builder license as it works well with other plugins as well as being lightweight. Or you can build landing pages from scratch with some CSS and HTML.
Conclusion
While it doesn't come with the traditional Amazon front-end like WooCommerce's StoreFront, LensCap appeals to those looking to excel in both content marketing and ecommerce. It looks great and makes for easy consumption of articles on your site.
We truly enjoyed writing this LensCap review article and hope you find the WooCommerce WordPress theme as compelling as us.
---
https://www.vertical-leap.uk/blog/what-is-thin-content-why-does-it-matter/ ↩