If you were looking for the best WordPress backup plugin for your site, look no further than WP Time Capsule Pro. The premium version of the WP Time Capsule plugin was recently released and like InfiniteWP's lifetime offer before this, lifetime WP Time Capsule Pro licenses are sold for a limited time only.
Should you buy a WP Time Capsule license? Why not just use the free version? How does it compare to say, BackupBuddy and UpdraftPlus? Read on after the break for our take on WP Time Capsule premium.
WP Time Capsule Pro Review : An Introduction
Before the release of WP Time Capsule Pro (or WPTC Pro for short), running a backup solution for your WordPress website was an expensive affair. You either had to backup all the files on your site each time you ran a backup or pay for SaaS backup solutions like VaultPress or CodeGuard.
While using a SaaS backup solution can make things easy, it also makes your backups expensive and at risk. But how is that so? You see, while services like VaultPress makes backups easy, it doesn't backup everything on your site.1 While this might not affect most WordPress users, it'll affect some plugins who create their own database tables which aren't recognised by VaultPress.
WP Time Capsule Pro is an interesting WordPress backup plugin solution because it is more than just a plugin. Rather, the plugin serves to extend your WordPress installation to then communicate with the WPTC servers, which then facilitates the backup process.
Again, in contrast with majority of backup plugins, WP Time Capsule doesn't zip the files, but sends them individually to your remote backup location. This makes it like VaultPress, with the exception being WPTC Pro backs up to your own remote location and has some amazing features as well.
Let us look further into these features that WP Time Capsule Pro has as well as upcoming features.
WP Time Capsule Pro Features : Effortless One-Click Staging
As a developer, staging sites are crucial for us to troubleshoot errors. But for the average WordPress user and blogger, staging helps you test out various configurations, new themes and plugins and even fix errors.
The beauty of WP Time Capsule Pro is that you no longer need to rely on your hosting provider for staging sites. While a number of managed hosting companies do offer staging, the more powerful managed VPS hosting solutions usually do not.
And while you might find it easy to use the command line to create staging sites, majority of WordPress users do not and thus fall under the group of users that need WP Time Capsule Pro.
When I tested WP Time Capsule Pro, the staging site was easily setup, letting me make changes to the site before pulling the changes back to the main site.
WP Time Capsule Pro Features : Affordable Backups
Out of the current set of self-hosted backup plugins like UpdraftPlus and BackupBuddy, none of them have incremental backups. This makes your backups heavy on space, as you need to keep a copy of your site for each day of backup.
In comparison, with WP Time Capsule, other than the first backup, the rest of your backups are tiny due the versioning system that WP Time Capsule uses. This incremental backup solution is usually done off the server by a SaaS solution. And while ManageWP offers the same thing, they charge $0.13/GB for uploads to external cloud solutions.2
The thing I like about WP Time Capsule Pro is that backups are not zipped up, but rather transferred individually to your cloud. This cuts down the load on your hosting, ensuring your site doesn't choke from a lack of resources during the seamless backup.
WP Time Capsule Pro Features : Easily Manage Dozens Of Sites
If you are a freelance developer, you might need to manage maintenance for dozens of sites. That is crucial, because most website owners don't update their sites on time. This leads to many sites being hacked and lose their SEO rankings after some time.
WP Time Capsule Pro enables you to automate major and minor WordPress updates as well as plugin updates. It'll also create a backup that you can restore from for when anything goes wrong. If used together with well-coded plugins, daily malware scans and a good host, your clients' sites will be secure compared to their competitors.
WP Time Capsule Pro : Constant Innovation
Having been a WordPress power user for ten years now (other than developing in WordPress for the last two), I've realised that you can always predict how a product develops by looking at the track record of their creators. And you just need to look at InfiniteWP to see how far they've come since their launch in 2013.
I strongly believe that WP Time Capsule Pro will continue to improve and add features that might make it better than VaultPress in the long run.
WP Time Capsule Pro Compared To Rivals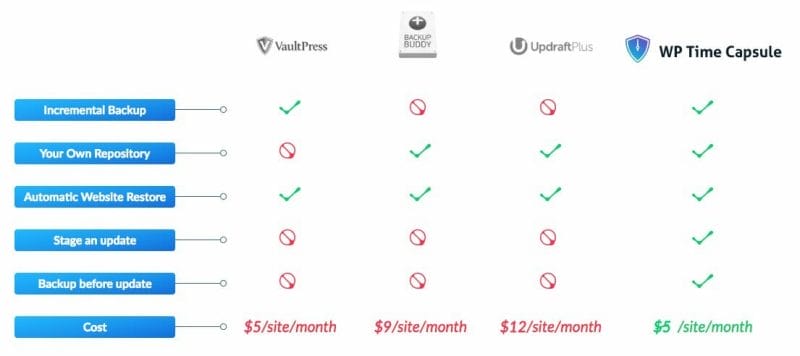 WP Time Capsule Pro's rivals include BackupBuddy, UpdraftPlus and of course, VaultPress. How does it compare to them?
1 ) No Zipping Of Files
Compared to BackupBuddy and UpdraftPlus, WP Time Capsule Pro doesn't zip up your files. This prevents timeout issues on your backups. While BackupBuddy's Stash Live service does the same, though restricting you to the expensive BackupBuddy Stash storage space.
2) One Click Staging
VaultPress doesn't do staging, while you would need to configure both UpdraftPlus and BackupBuddy to do a site migration. In addition, UpdraftPlus requires you to purchase a migrator extension in order to access the migration function.
However, UpdraftPlus seems to have limitations to their staging feature as of now3.
3) Own Your Data
While VaultPress does great backups, ultimately you do not own the data on VaultPress' data centers. This becomes an issue if VaultPress goes down. In comparison, you can store your data in various cloud solutions with WP Time Capsule Pro.
WP Time Capsule Pro Review : Conclusion
WP Time Capsule Pro has shown itself as a very viable backup solution for WordPress. With leading features such as incremental backups, one-click staging and the ability to store your backups on affordable cloud storage spaces, it will be money well spent.
And the best thing about WP Time Capsule is, it is bound to get better. I've migrated my sites over to WP Time Capsule Pro and will be putting my clients on it as well. If you're sitting on the fence, why not give it a go?