Groundhogg, FluentCRM or Jetpack CRM? In this article, we will look at two of the leading CRM plugins for WordPress and an upstart in form of FluentCRM. TL;DR: While FluentCRM isn't a full fledged CRM system yet, give it time and it'll get there. Plus, you won't be able to get FluentCRM on lifetime anymore after this week.
If you are worried, the team behind FluentCRM, WP Manage Ninja, has proven itself with Ninja Tables and more recently, Fluent Forms. Both have rapidly matured and if you have invested in buying them back then, you would have made back your investment. However, if you prefer a full fledged CRM system and don't want to wait, Groundhogg and Jetpack CRM are excellent choices.
Read on to find out more about CRM software before we take a look at Groundhogg vs FluentCRM vs Jetpack CRM.
Introduction to CRM Software
Customer Relationship Management (CRM) Software has been around 1990s and rapidly gained popularity in 1997. But CRM software was expensive and only became accessible to solo entrepreneurs and small team in 2004 when SugarCRM launched the first open-source CRM system.
Nowadays, we are spoiled for choices. From enterprise grade CRM like Salesforce to more affordable CRM software like Zoho CRM, Hubspot CRM, Insightly, Nimble CRM, Pipedrive CRM and Freshsales CRM, it can be difficult to decide on what is best for your business. We even had lifetime deals on Salesflare and more recently, CompanyHub.
So why consider another CRM solution? This is what we will look at when we consider the best WordPress CRM plugins. Read on as we compare the newcomer, FluentCRM with Groundhogg and Jetpack CRM (formerly known as Zero BS CRM)
Why Get a CRM Software?
If you are like me, you most probably have never caught on the CRM wave. After all, why get a CRM when you can do everything via Google Sheets or Airtable? Furthermore, CRM software is expensive and for small businesses like ours, the money is usually better spent on other things (e.g: like lifetime deals and lifetime WordPress plugins) – or so we thought.
In the past few days, I've gone through over dozens of articles on CRM. I searched terms like 'best CRM software', 'best CRM systems' and even 'best CRM plugins for WordPress' and read all the articles in the results. That's because we had deals for two amazing CRM systems, a lifetime deal rerun on CompanyHub and FluentCRM. I've also fiddled around with Salesflare, CompanyHub, Insightly and Zoho CRM, all in the bid to understand what difference a CRM software would make, and how would FluentCRM, Groundhogg and Jetpack CRM fit in.
There are a lot of definition of what a CRM software should do. Wikipedia says it is meant to 'integrate and automate sales, marketing & customer support'. I like Zoho's definition, which is, 'improving business relationships through customer retention and customer acquisition.'
Zoho also defined the five benefits a company can obtain from a CRM software. They are:
Better Data Organization
Enhanced Communications via automated workflows and emailing
Shared Information – where your team will have shared resources on a lead / customer. This ir particularly vital as you don't want to start off again as strangers with your customers, if one of your sales person leaves
Catch All Leads – You'll be able to capture leads via contact forms on the site. With FluentCRM and Groundhogg, this goes further as you'll be able to convert customers to leads for your future products
Know Your Numbers – A sales pipeline and robust reporting feature will help you stay up to date with the latest sales numbers and how your sales team is performing. This saves the hassle of keying in data or worse, missing out on crucial information.
Who Should Buy a CRM Software?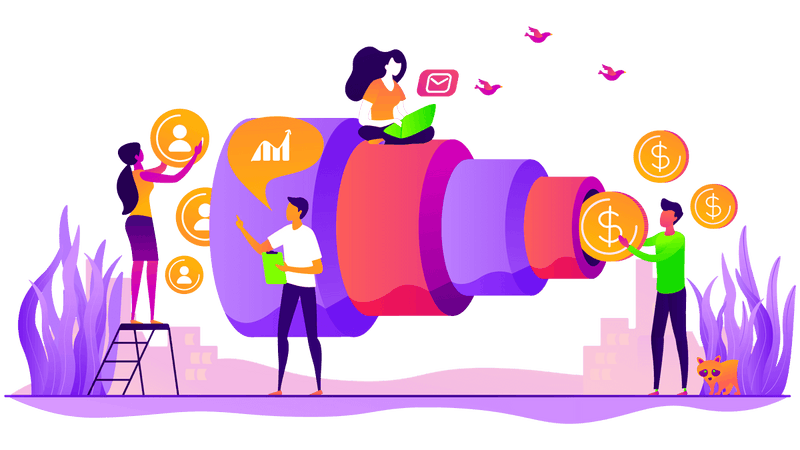 If you run a growing business and have more than a handful of customers, you need a CRM software. This is because beyond twenty customers, it becomes difficult to manage your customer relationships. Tasks you need to do include remembering the conversations with various customers, their preferences, current and previous projects / contracts with the customer and mundane but important details like sending them a greeting on their birthdays or special occasions. While you can do these with Google Sheets or pen and paper, it gets tedious fast.
This issue snowballs as you get more customers. Furthermore, what you want isn't just retaining your current customers, but delighting them and making them fans of your service, so that they will tell their friends about your business.
A good CRM software or plugin solves this problem by being an all-in-one hub for managing your customer relationships.
Which Should I Choose? : Deciding Between FluentCRM, Groundhogg & Jetpack CRM
While Salesforce set a high bar for CRM systems, WordPress CRM plugins has come a long way and is rapidly improving. But which CRM plugin should you get? Let us take a deeper look at FluentCRM, Groundhogg and Jetpack CRM.
FluentCRM vs Groundhogg vs Jetpack CRM: Pricing Structure
WordPress CRM plugins do not charge you by the number of users or contacts / customers you have, whereas cloud-based CRM systems charges by both users and sometimes the amount of contacts too. This makes WordPress CRM plugins an attractive choice for small and medium businesses looking to grow their business on a tight budget.
While Jetpack CRM and Groundhogg have relatively cheap plans, their lowest tiered plans are limited and not recommended by us. For example, Jetpack CRM's Freelancer plan ($11/mo) only gives you access to 4 extensions, while Groundhogg's Basic tier ($20/mo) lacks in automation, integrations, contracts and a bunch of stuff that makes Groundhogg powerful. Fortunately, FluentCRM does not subscribe to this pricing methodology and gives you everything at even their lowest tier.
At the point of writing, FluentCRM is running a lifetime deal and have lowered their prices to an amazing $99 for 1 site. Or you can do 50 sites at a low one-time cost of $599. This deal won't last forever and will be around for only a week.
FluentCRM vs Groundhogg vs Jetpack CRM: Features & Integrations
| Details | FluentCRM | Groundhogg | Jetpack CRM |
| --- | --- | --- | --- |
| | 1 | 3* | 1* |
| | $149/year | $360/year | $132/year |
| | 5 | 5 | 1 |
| | $399/year | $480/year | $204/year |
| | 50 | 50 | 10 |
| | $699/year | $960/year | $648/year |
| | N/A | Tier 1 | N/A |
| | Y + Uncanny Automation Integration | Tier 2 | Y |
| | Coming in 2021 | Tier 1 | Y |
| | Coming in 2021 | Tier 1 | Y |
| | N/A | Tier 1 | N/A |
| | Coming Soon | N/A | Y |
| | Y | N/A | Y |
| | Y | N/A | Y |
| | Y | Base Tier | Y |
| | Y | N/A | N/A |
| | Y | N/A | N/A |
| | Y | N/A | N/A |
| | via FluentForms | Tier 1 | N/A |
| | via FluentForms | Tier 1 | N/A |
| | Advanced Form Builder | Tier 1 | Y |
| | Y | Y | N/A |
| | Y | Tier 2 | Y |
| | Y | Tier 2 | N/A |
| | via Zapier | Tier 2 | N/A |
| | Y | Tier 2 | N/A |
| | Y | Tier 2 | N/A |
| | Y | Tier 3 | N/A |
| | Coming Soon | Tier 2 | N/A |
| | Coming Soon | Tier 2 | N/A |
| | Y | Tier 2 | Y |
| | Y | N/A | N/A |
| | N/A | N/A | Y |
| | N/A | N/A | Y |
To make full use of Groundhogg, we recommend that you subscribe to Groundhogg's Pro plan ($40/mo), which comes with conditional logic, WooCommerce and Zapier integrations, among others. This will let you convert your visitors into customers better, and delight your current customers. Zapier lets you integrate Groundhogg to various third party apps, further increasing its usefulness.
As for Jetpack CRM, you really don't want to be missing out on access to all their CRM extensions. But that requires you to be on the Entrepreneur plan ($17/mo). However, if you want to get powerful email campaigns underway, you need to move up to the Elite tier ($30/mo).
If you are narrowing down your focus on both Groundhogg and Jetpack CRM, they both have very similar feature sets, with Jetpack CRM narrowly edging Groundhogg with its contact management. However, Groundhogg has much more integrations compared to Jetpack CRM.
FluentCRM has less overall features than both Groundhogg and Jetpack CRM, but that is understandable as they are a new plugin and need time to develop and grow the plugin. FluentCRM is strong in Emails and has features such as sequential emails, A/B testing for emails and email analytics. These are absent on both Groundhogg and Jetpack CRM.
Another strength of FluentCRM is their contact management, which comes with contact data aggregation and dynamic segregation. Large technical words, but basically it means you can better manage your contacts with FluentCRM. In this section, Groundhogg is found wanting.
The second last advantage FluentCRM has over its competitors is an advanced form builder. As the creators of Fluent Forms, WP Manage Ninja managed to integrate both plugins together to produce an even more powerful tool. If you need a powerful contact form deeply integrated with your CRM solution, you need FluentCRM.
Finally, FluentCRM is working feverishly to integrate multiple plugins. These includes integration with powerful plugins like BuddyBoss and TutorLMS, which are underway. However, if you need more power, FluentCRM is integrated with the Uncanny Automator plugin, which opens the door to a whole new set of possibilities.
FluentCRM vs Groundhogg vs Jetpack CRM: Which Should I Choose?
While it is easier to say buy FluentCRM or buy Groundhogg, to be frank, it depends on your needs. If you are looking for a full-fledged CRM solution to run your business on right now, you won't go wrong with either Groundhogg or Jetpack CRM. Both CRM plugins are solid choices and will continue to improve.
However, if you don't mind starting with a powerful emailing system and contact management tool while waiting for the other features to be built, you need to get FluentCRM. FluentCRM is the only tool on lifetime and will see rapid development just like how Ninja Tables and Fluent Forms did before this.
At $99, you get a powerful CRM plugin that is only going to get better with time. However, if you run an agency, you can opt for the 50 sites license and upsell FluentCRM's solution as part of your premium care plans. That's what I would do.
Visit FluentCRM
Visit Groundhogg
Visit Jetpack CRM