Coming Soon & Maintenance Mode Plugin Review: Agency Features Transform Plugin
Features

Price

Designs of Coming Soon Pages

Agency Features - Remote Site Control & Remote Site Stats
Summary
The Coming Soon & Maintenance Mode plugin is a deceptively simple coming soon plugin with 'hidden' agency features. We highly recommend the plugin as it brings your coming soon pages to the next level with cutting edge features/
Pros
Allows you to create a compelling coming soon page with its drag and drop builder
Easily lockdown site with flexible bypass controls
Set the SEO for your coming soon page
Affordable price
Cons
Autoresponder limited to MailChimp unless you integrate Zapier or a html form
Need to understand some CSS to fully utilize the plugin
No social sharing buttons
Premade themes looks average
If you develop or design websites for clients, you can either choose one of these three options. Firstly, you can develop your site in plain view of everyone, including competitors and other web design company. However, your idea might be copied before you launch. Secondly, you can develop it at a separate domain and then launch it when its done. While that keeps your site safe, it also prevents you from gaining raving fans before you start.
If you want to grow your audience before even launching your site, you need instead create a compelling site before launching. And what better plugin to do so than the Coming Soon & Maintenance Mode plugin, that we are reviewing in this article.
The Coming Soon & Maintenance Mode plugin is a deceptively simple coming soon plugin with 'hidden' agency features. While it isn't the sexiest looking coming soon plugin, its features more than make up for its weaknesses. Read on as we review the Coming Soon & Maintenance Mode plugin.
Presenting the Coming Soon & Maintenance Mode Plugin
The Coming Soon & Maintenance Mode plugin is an established plugin with 80,000 installations for its free plugin. It locks down the site while allowing you to craft a compelling coming soon page for your visitors. It also allows certain visitors (like your clients) in via a nifty bypass control. With an easy-to-use layout and the ability to edit the details of the site via CSS, you can easily tailor your design. But what if you prefer using a page builder which you are familiar with? With the Coming Soon & Maintenance Mode plugin, you can easily do that too.
The Coming Soon & Maintenance Mode plugin is useful for web designers, web developers and DIY WordPress users, who are building websites and want a way to deliver a great coming soon page. It comes with an affordable price of $199 for a lifetime one hundred sites license. At the time of writing, you can get it at a discounted price of $117 for unlimited sites over at AppSumo.
Pros of the Coming Soon & Maintenance Mode plugin:
Allows you to create a compelling coming soon page with its drag and drop builder
Easily lockdown site with flexible bypass controls
Set the SEO for your coming soon page
Affordable price
Cons of the Coming Soon & Maintenance Mode plugin:
Autoresponder limited to MailChimp unless you integrate Zapier or a html form
Need to understand some CSS to fully utilize the plugin
No social sharing buttons
Premade themes looks average
Features & Benefits of the Coming Soon & Maintenance Mode Plugin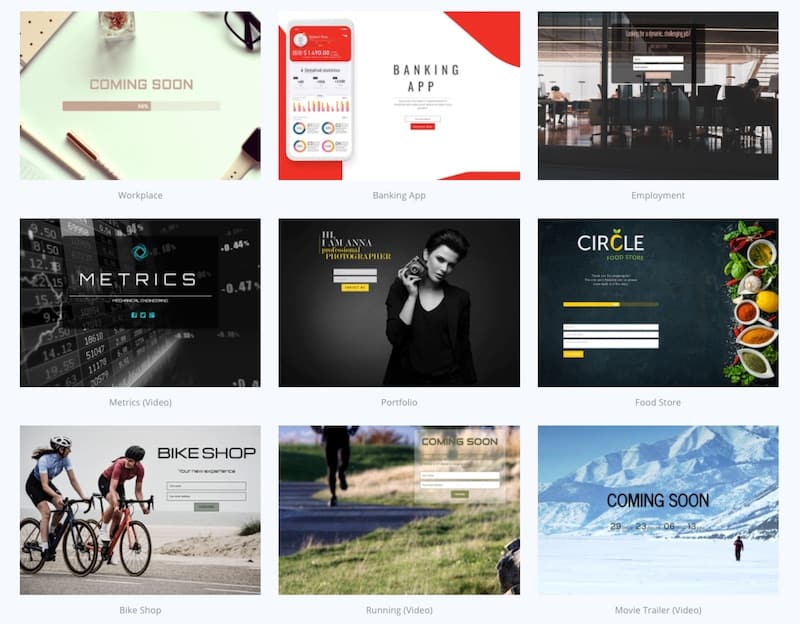 1) Flexible Coming Soon Page Builder with the option of using leading page builders like Elementor and Beaver Builder
If you wanted a coming soon plugin with the flexibility to create beautiful coming soon landing pages, you won't go wrong with this plugin. Compared to others, the Coming Soon & Maintenance Mode plugin stands out with its understated drag and drop builder.
Furthermore, you can go deeper and customise aspects of your coming soon page via CSS.
However, if you have invested in a page builder, the plugin allows you to designate any other pages as your coming soon page. This opens the door to various possibilities to creative coming soon pages, including showing your Instagram and YouTube feeds, showing your testimonials and creating FOMO. The possibilities are endless.
2) Easily Lockdown Site with flexible bypass controls
This feature transform your site to a safe haven for client feedback with a simple toggle. But couldn't I do that with my current coming soon plugin? Or better still, can't I just use the page builder's coming soon mode?
Well, unlike other plugins, you get to easily turn on/off the coming soon mode for dozens of sites via the hosted dashboard. Furthermore, you get a flexible bypass control to enable visitors via password, IP whitelisting and secret access link.
3) Set the SEO for your coming soon page
But you don't want to create a coming soon page without the traffic. With the Coming Soon & Maintenance Mode plugin, you get to optimize your coming soon's page target keyword, title and meta description. This helps get found online and is a killer feature seldom found on coming soon plugins.
4) Affordable price
Finally, unlike its larger competitors, the Coming Soon & Maintenance Mode plugin comes with an affordable price. You can get a lifetime license for less than $200, which is a steal considering you get a cloud-based dashboard to monitor and control the coming soon pages for all your sites. With the plugin being actively developed and supported by the Web Factory team, you are getting a bargain.
Social Proof
As a web performance engineer for LoadView Load Testing, I love that fact that "Coming Soon" is a lightweight plugin. It doesn't bog down the website or affect web performance in a negative way. If you're looking for a simple, optimized coming soon plugin, this is a great option.

Glenn Lee, Web Performance Engineer
Has loads of easy-to-use tools, but I needed exactly what this plug in offers: a big field for custom HTML and a big field for custom CSS. Boom. You can skip the built-in page builder altogether if you want to. I cranked out an engaging "coming soon" page in less than an hour. Also: The developer definitely went the extra mile or whatever on the interface: Lots of clear, friendly instruction and organized, tabbed layout. A pleasure to use. Thank you!

harvurd, Rated 5/5
Alternative Coming Soon plugins
Here are some alternative coming soon plugins. While they let you create beautiful coming soon pages that your designer friends would be proud of, they lack the ability to designate any page as the coming soon page. Neither do they have a dashboard to manage your coming soon pages.
SeedProd's Coming Soon Pro
UnderConstructionPage by Web Factory, the same guys behind this plugin
WP Maintenance Mode by DesignModo
CMP – Coming Soon & Maintenance Plugin by NiteoThemes.
Coming Soon Mode by page builders like Elementor, Beaver Builder and Divi Builder
Conclusion
Coming soon pages has long been overlooked by many web designers, developers and entrepreneurs. Instead of creating an effective coming soon page with converts visitors, we tend to put up bland ones just to get it over with. Sometimes, we even forget to put up a coming soon page as we develop the site on a separate domain.
But Coming Soon & Maintenance Mode plugin hopes to change that. We recommend that you grab yourself the agency license at $117 during this AppSumo promotion as it comes with unlimited sites and remote site control. This represents an amazing deal not to be missed, especially if you manage a couple of WordPress websites.
Coming Soon & Maintenance Mode Plugin Review: Agency Features Transform Plugin
Features

Price

Designs of Coming Soon Pages

Agency Features - Remote Site Control & Remote Site Stats
Summary
The Coming Soon & Maintenance Mode plugin is a deceptively simple coming soon plugin with 'hidden' agency features. We highly recommend the plugin as it brings your coming soon pages to the next level with cutting edge features/
Pros
Allows you to create a compelling coming soon page with its drag and drop builder
Easily lockdown site with flexible bypass controls
Set the SEO for your coming soon page
Affordable price
Cons
Autoresponder limited to MailChimp unless you integrate Zapier or a html form
Need to understand some CSS to fully utilize the plugin
No social sharing buttons
Premade themes looks average