Posts Table Pro Review: No Data Entry Required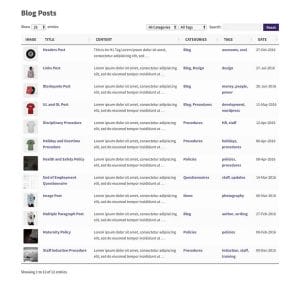 Name: Posts Table Pro
Description: Posts Table Pro is a powerful table plugin for WordPress. Posts Table Pro makes it easy for your site users and visitors to sift through content on your site
Offer price: $65
Currency: USD
Operating System: WordPress
Application Category: Table Plugin
Price

Features

Utility

Customer Service
Summary
Posts Table Pro is a powerful table plugin for WordPress. Posts Table Pro makes it easy for your site users and visitors to sift through content on your site
Pros
Posts Table Pro's ability to list and sort WooCommerce products, custom post types and custom fields is a must in certain conditions
Cons
$215 per year for 20 websites is considered pricey as Ninja Tables is $299 for an unlimited lifetime license
Creating written content is a difficult process. Especially if you plan to consistently create valuable content. But conversely, having a lot of content is tough as your readers might be overwhelmed with content. Or end up just reading your latest posts.
That's why plugins like SearchWP and FacetWP as well as powerful open source search engines like ElasticSearch, do well. Our readers and customers want to find information fast. Or they would just go to the next site.
But what if you wanted more than just a better search box? Perhaps you wanted a sortable table for your reviews or documents. One that came with the featured image and is sortable via tags. Or perhaps you want to make it easy to sort your custom post type.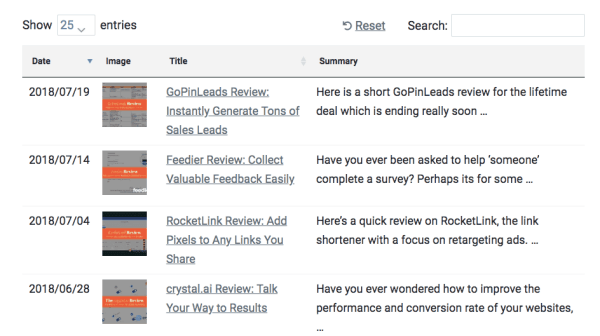 Well, in the old days, you had to spend a fair bit in hiring a developer. And it took time. Even building Leokoo's Review Index took me a few days of hard coding.
But all that is now solved, with Posts Table Pro.
Posts Table Pro Review: An Introduction
Posts Table Pro is a plugin that supercharges your WordPress tables with Custom Post Types, Custom Taxonomy, Tags and comes with support for plugins like Advanced Custom Fields (ACF), Pods and Toolset Types.
It lets you create beautiful yet powerful, sortable tables, easily and fast. And you can easily create multiple tables as and when you need it.
Posts Table Pro is a new plugin that extends the Posts Table with Search & Sort by Barn2 Media, an established WordPress plugin development company.
Posts Table Pro Review: Who Should Buy?
If you were wondering if Posts Table Pro is for you, let us help you by going through the following website examples below:
Blogs
News Sites
Directories
Events Site
Bookings Site (like AirBNB)
Document Libraries
Read on to see how you could apply Posts Table Pro
A) Posts Table Pro for Blogs & News Sites
If you run a blog or a news site, you might want to use Posts Table Pro for your reviews, listicles as well as keep your readers in tune with certain viral topics.
Why let them search for the category or click-through the related posts when you can easily list everything down on Posts Table Pro? This keeps your posts in one neat, sortable and tidy table.
This not only reduces bounce rates, but improves user engagement.
B) Posts Table Pro for Directories, Events & Bookings
If you run a directory, events site or bookings site, it is easy to be swamped with too much details. For example, you might have a number of concurrent events or properties. And while you can let your customers sift through them, a better way would be a table. And Posts Table Pro does this perfectly.
C) Posts Table Pro for Document Libraries
WordPress isn't built to display documents. However, as a CMS, you might end up having a number of files. Be it PDF, Audio or Video files, there are no easy way to display and sort these documents.
Here's where Posts Table Pro comes in. With Posts Table Pro, you can easily sort files attached to your Custom Post Types, making your document libraries, even more powerful.
Posts Table Pro Review: Our Humble Opinion
Posts Table Pro fills a need in the WordPress world, easily sorted tables for custom post types and taxonomies. It is easy to use and affordable.
However, if you were planning to use Posts Table Pro for all your projects, please note that it has some limitations.
For example,
buttons with automated links on every row of your table is not possible for now. Rather, you have to manually enter the hyperlinks. The plugin will automatically link the title of each row to the single post page (you can disable these links if required), and it integrates with the free Page Links To plugin if you want to link to any other URL.
However, any other links or buttons must be added manually. Similarly, Posts Table Pro doesn't pull the usable taxonomies for a Custom Post Type, leaving us to much guesswork before getting it right.
Posts Table Pro Review: The Conclusion
Personally though, I think that the Posts Table Pro plugin is a worthy plugin in our WordPress ecosystem. While it might not be relevant to your current project, it might be useful for future projects.
Posts Table Pro Review: No Data Entry Required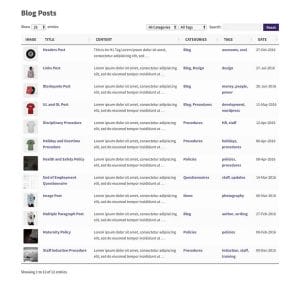 Name: Posts Table Pro
Description: Posts Table Pro is a powerful table plugin for WordPress. Posts Table Pro makes it easy for your site users and visitors to sift through content on your site
Offer price: $65
Currency: USD
Operating System: WordPress
Application Category: Table Plugin
Price

Features

Utility

Customer Service
Summary
Posts Table Pro is a powerful table plugin for WordPress. Posts Table Pro makes it easy for your site users and visitors to sift through content on your site
Pros
Posts Table Pro's ability to list and sort WooCommerce products, custom post types and custom fields is a must in certain conditions
Cons
$215 per year for 20 websites is considered pricey as Ninja Tables is $299 for an unlimited lifetime license