If you have heard the buzz about WordPress and how easy it is to start a website, you are probably right. WordPress has come a long way since the early days of b2/cafelog back in 2003 1, and is now probably one of the easiest ways to launch a self-hosted website, which is increasingly crucial in our web-connected world. WordPress now powers up to 23% of all websites around the world and is showing a steady growth monthly. 2
In this post, we will bring you through a review of OptinMonster, as part of our series of reviews on Optin Forms (or properly spelt as Opt-in Form). You see, we here at Leokoo are always on the lookout for the best Optin Forms plugin for WordPress, as part of our desire to make Leokoo as advanced as possible and help promote great plugins to Malaysian WordPress users. As such, we have been purchasing and testing the various leading optin form plugins out there. Because of that, we are certain that we could give you an unbiased review of the best plugin for your WordPress installation.
Here are the best Optin Form WordPress plugins we have reviewed. If you haven't read them, just click on the link to see which one suits you best
OptinMonster: Why Optin Forms?
Optin forms are needed if you are to build a mailing list and improve your readership. As you know, it is not easy to increase readership of your blog. Other than posting frequently, advertising and participating in forums, email marketing seems to be on the rise. Even Forbes 3 says that research shows that email marketing is a much more effective tool compared to social media marketing. And as such, signing up your readers to a mailing service like MailChimp or Campaign Monitor, and then sending them periodical emails should be your priority.
The History of OptinMonster
Back before OptinMonster was created Syed Balkhi of List25 and WPBeginner.com was frustrated with the existing Optin Form plugins available for WordPress. Out of his frustrations, he slapped together some script and made his own Optin Form which popped out whenever a reader visits his site, List25.
OptinMonster Review: Price
If you are on a budget, perhaps OptinMonster isn't for you. Priced from the basic $49 per year for a single site without OptinMonster's Exit Intent nor Canvas features to $499 per year for unlimited sites, OptinMonster isn't cheap. However, price isn't everything and perhaps the value of such a plugin should be taken into consideration, which is where we will be taking you through
OptinMonster Review: Features
Compared to its competitors, OptinMonster was the first commercial WordPress optin plugin to feature the famous 'Exit Intent'. Though seemingly spammy by nature, the Exit Intent ensured that OptinMonster became a well-known plugin among the WordPress community. Syed and Thomas Griffin did not stop there though and continued innovating with newer features
Currently, these are the features available for OptinMonster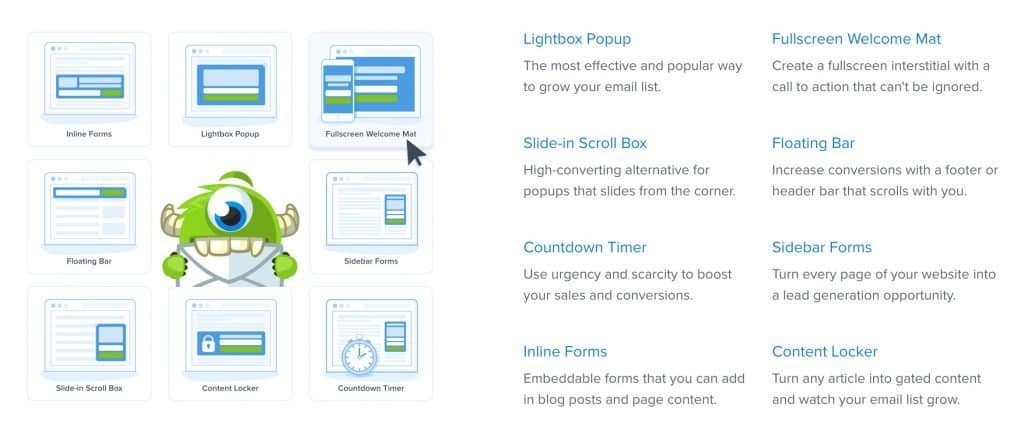 Footer Bar – It slides in to help you convert readers.
Slide-In – This slides in after a specified time to give your readers the option to sign up for your newsletter. We're currently implementing this on Leokoo
Exit Intent – Brilliantly done, you can either use this to get more sign-ups, or annoy your visitors. To us, it is a brilliant way to show your popups.
Sidebar – Very professionally done, it enables you to sign people up on your sidebar as well
After Post – And sign others up for your post. To be frank, if you need your sidebar to be more effective, perhaps using the Q2W3 Fixed Widget plugin would help make a difference. We prefer the Slide In though for now
Canvas – If you are planning to use the popup option to sign up your subscribers, Canvas enables you to code your own popup there and then, instead of being reliant on generic themes like all the others. Simply another brilliant piece of code by OptinMonster
Effects – This enables you to make the popup attract even more attention. With wiggles, slide-ins and all sorts of interesting effects
Mobile – Helps you cater to your readers, while some other popups give you a responsive popup theme, OptinMonster decides it will be better to have a mobile specific theme, which only appears for mobile devices. This would enable you to have fewer words on the mobile and still have your brilliant converting line for desktops, laptops and tablets.
Looking at the current set of features, I would say that OptinMonster has progressed well in innovating new features that would help email sign-ups. As such, instead of having a couple of plugins for our signups, we can just use OptinMonster.
Weaknesses of OptinMonster's Features
While OptinMonster might have the most amount of features out there, some killer features that its competitors have, like Hybrid Connect's Facebook signup or Sumome's slide in form could be implemented by OptinMonster in future releases. Instead, if you like those, you might need to install a separate plugin, which could introduce another potential point of failure, while also loading the website with more code.
OptinMonster has neglected WooCommerce as well. While WooCommerce is currently WordPress' shining star, OptinMonster doesn't have any options out of the box to incorporate stuff like signing up for randomly generated, single-use coupon codes, which could then be used for a purchase for online stores or blogs running a store as part of their monetisation process.
Also, if you have multiple categories of readers, OptinMonster and its competitors do not have an option for your readers to select which mailing list they would like to sign up for.
Aesthetics & Navigation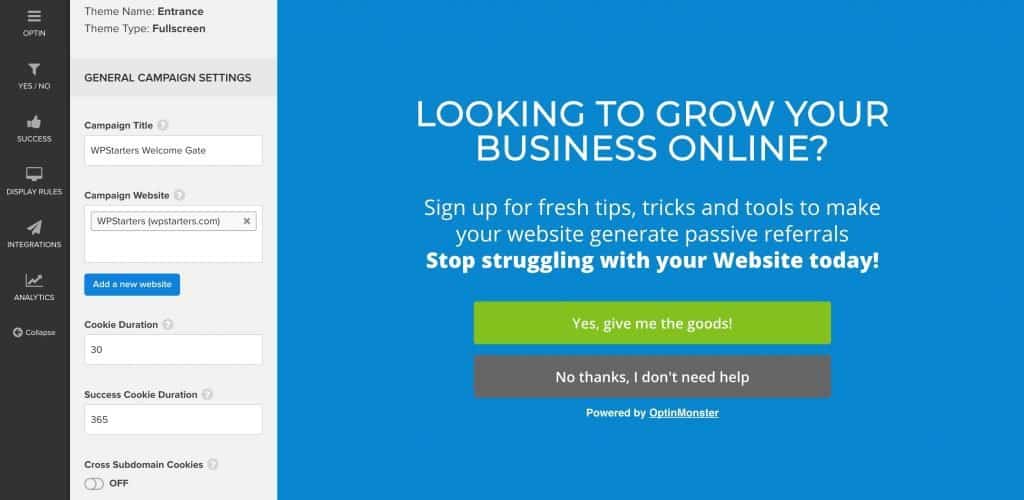 To be frank, OptinMonster looks great. Compared to some of its competitors, OptinMonster stays away from templates which looks spammy and cheap. Instead, OptinMonster has beautiful, flat designs for you to choose from. Or if you take the premium package, you even get the Canvas extension, which allows you to code your own popup design.
On the backend, OptinMonster looks great as well with the tabs, Optins, Add-ons, Integrations and Settings featuring prominently on top. As such OptinMonster is easy to navigate and use and is the most polished of all Optin Forms plugins for WordPress
Code Quality & Updates
Our final criteria are code quality and updates. Code quality is crucial for any WordPress installation or any websites for that matter. Bad coding can both slow down your site and cause it to be vulnerable to being hacked. And slow sites tend to be penalised by Google. The OptinMonster team has ensured that their code is light when they created OptinMonster. As such, having OptinMonster and all its plugins enabled will barely cause a dent in the performance of your site.
Updates are crucial as well. You do not want to pay good money for a plugin, only to find it abandoned or hardly updated. As Retyp (Thomas & Syed's company) only focuses on three main products, you can be assured that OptinMonster gets developed well. Even a peek in the changelog (https://optinmonster.com/docs/changelog/) reveals much changes and improvements.
OptinMonster Review: Conclusion
OptinMonster is one of the best, if not the best lead generation software for your WordPress installation. While it may seem expensive if you go for their highest range package with all the jingles, OptinMonster ensures that your site loads fast due to its mean code base. Lifetime and unlimited license also help if you are a web developer and/or do not want to worry about the long-term future of the plugin, unlike cheaper versions out there.
If you are on a budget, save money and purchase this software, because it is the best out there for your installation.