The Black Friday Cyber Monday sale period is almost over by tonight. Though it is a pandemic season, Black Friday is still one of the best time to grab yourself a WordPress plugin, theme or bundle that you have waited so long for. In this year's Black Friday Cyber Monday round up, we have more than 300 deals in our list but are recommending our top 10. Please read on as you don't want to miss any of these if you are a WordPress user or even better, a digital agency owner.
Black Friday Cyber Monday Deals for other years
If you are looking for our Black Friday Cyber Monday WordPress and Lifetime Deals coverage for the other years, you may find them below
Black Friday Cyber Monday Deals 2020
We are covering Black Friday Cyber Monday deals for other segments as well. Please find our articles below
Complete List of WordPress Black Friday Deals 2020 – If you easily search and filter the table without the need to unhide certain cells to view the details, check this page out. In this article, we have removed the sidebar while retaining the database of WordPress deals in a table that is configured slightly differently.
Best Black Friday Cyber Monday WordPress Deals
Before starting, if you are on a tight budget, grab the first four deals as these will be gone for good, especially the GridPane deal. It is hard to say, but we reckon that Easy Digital Downloads and AffiliateWP might be offered on lifetime again if the circumstances are right. If you have a bit more budget, do consider the BuddyBoss lifetime deal as well.
Otherwise, if budget isn't a concern, consider grabbing all 10 before the timer runs out.
Here are our top WordPress plugin deals recommended for Black Friday Cyber Monday 2020.
1) Easy Digital Downloads Lifetime All Access Pass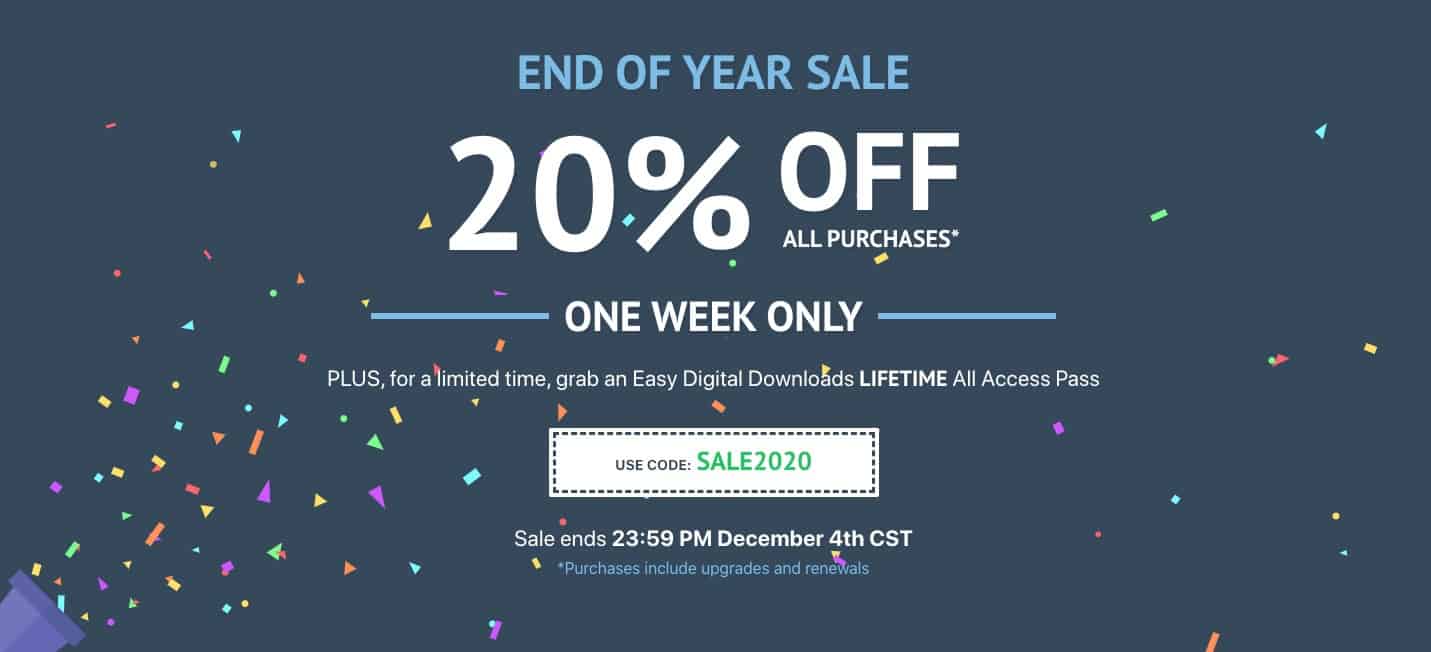 Easy Digital Downloads Lifetime All Access Pass is easily the best WordPress deal for Black Friday Cyber Monday. It is almost never offered on the Lifetime All Access Pass, hence the reason why we encourage you to grab the lifetime license before the deal ends.
Easy Digital Downloads (EDD for short) goes beyond just managing digital licenses for plugins and themes. If you are selling any digital product (e.g: memberships, online courses, website maintenance, event tickets, jobs, consultation house and ads, among others), EDD is a perfect for the job.
Ending Date: December 4th 2020
Coupon Code: Sale2020
Discount: 20%
2) AffiliateWP Ultimate License (Lifetime)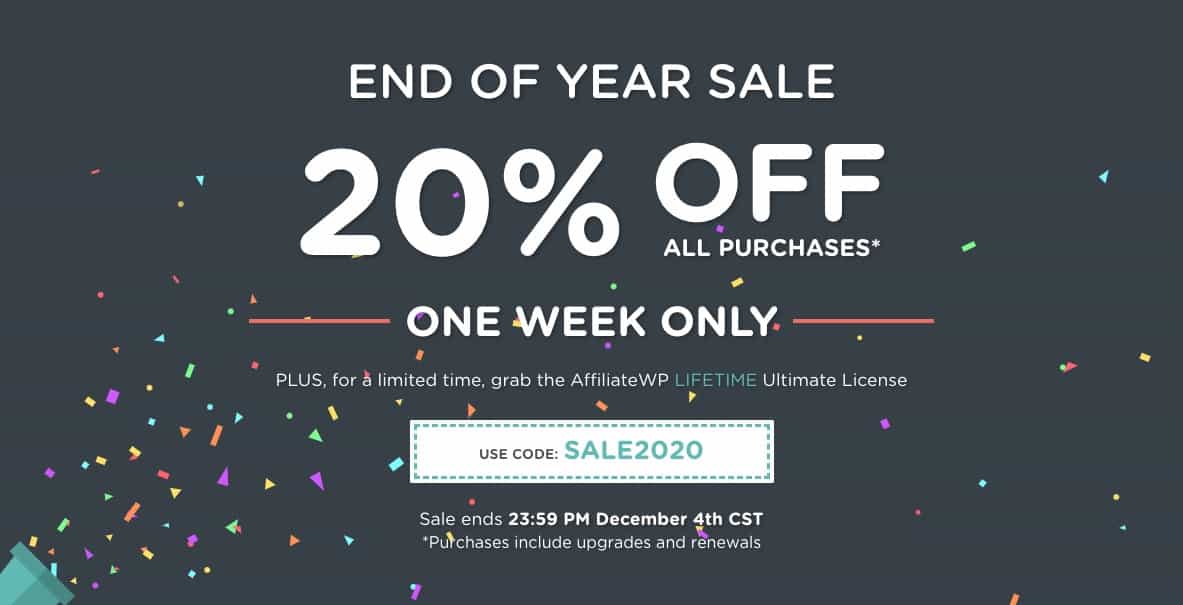 If you run an online store or a digital agency specializing in delivering WordPress sites, you don't want to miss out on AffiliateWP's lifetime license. Aptly called the AffiliateWP Ultimate License, AffiliteWP is by far the best affiliate marketing solution for WordPress. Paired up with Easy Digital Downloads or WooCommerce, and you will be able to grow your business via incentivising bloggers and YouTubers.
But AffiliateWP isn't just restricted to online stores, they work well with leading membership plugins, learning management systems, forms and even invoicing plugins. AffiliateWP comes with a powerful set of Pro add-ons, which is complemented by the 3rd party add-ons. You get stuff like REST API, Signup Referrals, Lifetime Commissions (my favourite!) and Recurring Referrals (my other favourite!), which other affiliate plugins do not have.
This enables you to setup stores, membership sites or learning management systems with an unbeatable affiliate system. In this pandemic season, people are struggling to find a second source of income. By sharing some profits with them, they will be inclined to promote your products to friends and family, helping grow your brand while letting you help the community at the same time.
The AffiliateWP Ultimate License was discontinued a couple of months back, and is only back for this Black Friday Cyber Monday period.
Ending Date: December 4th 2020
Coupon Code: Sale2020
Discount: 20%
3) GridPane Black Friday Cyber Monday 2020 Deal
No, there's no lifetime deal nor coupon codes for GridPane, but only a deal to keep you on GridPane's current developer annual price, which is going up after Cyber Monday. But why GridPane when there are so many other managed hosting panels ?
While the other managed hosting panels are good, they are not exclusively focused on WordPress. This means, with GridPane, you can be assured of having the best managed hosting panel for WordPress at the point of writing.
GridPane has progressed to much since we got onboard their Developer Lifetime License last year. While it wasn't cheap (I literally had to borrow my mom's credit card as I was broke), GridPane allowed us to offer advanced managed VPS hosting for our clients that we have built sites for. With cutting-edge features and live chat, GridPane helped us differentiate ourselves and grow our modest WordPress Care Plan business.
Some things we like about GridPane include
6G / 7G or Modsec Security
Optimized Nginx Only Stack
Elasticsearch auto-config
Reliable staging sites
Upcoming UpCloud integration
Upcoming Open Litespeed Servers
But most of all, we love GridPane because it is an honest company that wants to fulfil its promises of helping agencies serve cutting edge WordPress hosting. And by far, they've done, many times at great cost to their time and money.
Building a managed control panel is hard. Building the best WordPress managed control panel, is freaking Goliath-like work, that deserves applaud.
GridPane's unlimited servers and sites Developer Annual will be gone for good. While it is no longer offered on lifetime, we recommend that you grab yourself a license before a pricier plan comes in place on Tuesday.
4) FluentCRM Lifetime License
If you run an online store, a business, membership portal or a blog, a CRM system helps turn customers into leads. It helps you keep track of your customers and readers, their details and previous purchases.
And with WordPress-based CRM, you get the benefits of creating funnels, marketing automations, contact management, reporting and deep integration with plugins, all within the familiar confines of WordPress and without going through the loops of API, webhooks and Zapier.
But WordPress-based CRM systems are expensive, and frankly, only two stood out for us, Jetpack CRM and Groundhogg. Both beyond our fledging budget.
Hence, when WPManageNinja launched the initial FluentCRM deal with a lifetime license, we were smitten. With Jewel and team behind it, FluentCRM has the potential to be the best CRM system for WordPress. And like Ninja Tables and Fluent Forms, we have seen rapid development work being done for FluentCRM.
While FluentCRM is more of an email automation tool than a CRM system right now, it is progressing well and will eventually mature.
If you missed out on the initial FluentCRM launch, you can still grab yourself the lifetime license. Sure, the price has increased, but if you grab the 50 site license, it would only cost you $26/site for a lifetime license. That's really affordable and monetizable, especially if you run an agency or multiple sites.
5) WPManageNinja Black Friday Cyber Monday Discount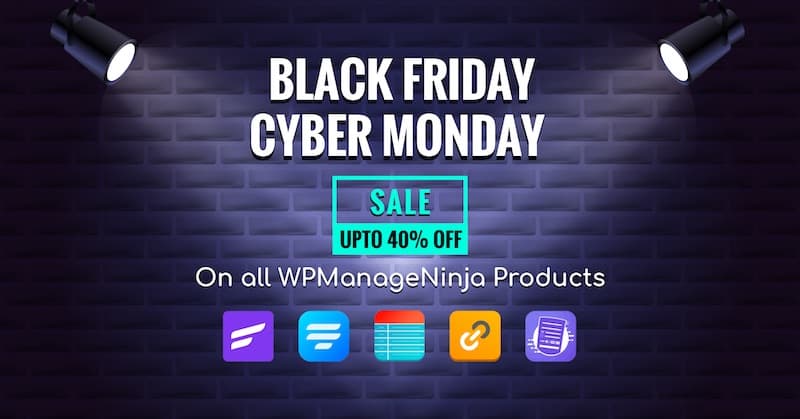 It's been a year plus since we got to know WPManageNinja, and their products are still some of the best in the market. Fluent Forms and Ninja Tables are our go-to forms and tables plugins, even though we have lifetime licenses for costlier solutions like WPForms, Formidable Pro and wpDataTables.
Both these plugins, together with WPManageNinja's other offerings, AzonPress and WPPayForms, are built with highest engineering practices in mind. This means the plugins are really fast and extendable if WPManageNinja wants to add new features.
During this Black Friday Cyber Monday deal period, you can grab these valuable licenses at a massive 40% discount, saving you some money while adding precious arsenals to your toolbox.
As usual, we recommend grabbing the lifetime unlimited licenses deals as WPManageNinja might just discontinue selling them. But honestly, most of our friends who got in on WPManageNinja's products, thanked us for our recommendations.
6) WPDeveloper Agency Bundle Lifetime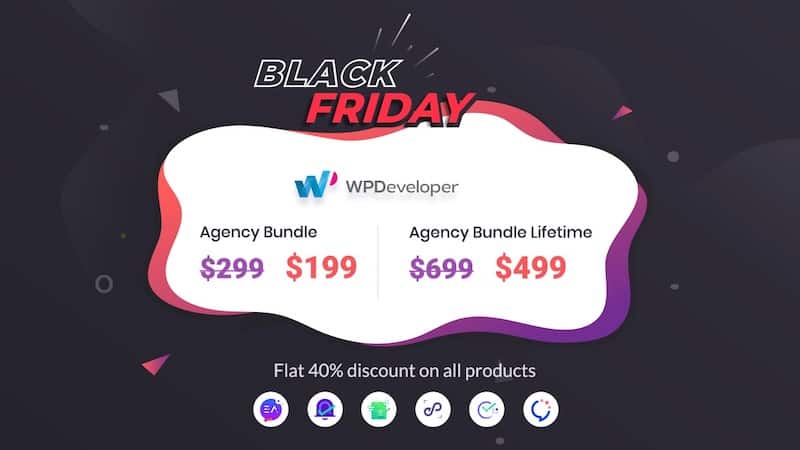 One of the best bundles for WordPress, the WPDeveloper Agency Lifetime Bundle is going at a massive $200 discount this Black Friday. If you plan to get individual plugins, they are available at a 40% discount
Why you should get WPDeveloper Agency Bundle Lifetime?
If you are on the fence, here's my thoughts on some of the plugins and theme in the bundle:
Essential Addons for Elementor – One of my go-to Elementor Addons. It is reliable and updated regularly. With 800k+ installs for the free version, Essential Addons is battle tested has been steady for me. Though I have a bunch of Elementor Addons, I usually use Essential Addons together with Crocoblock's JetPlugins
NotificationX – When I first met Asif in person, he told me of his vision of a notification plugin that goes beyond just FOMO and is not limited by arbitary limits most FOMO apps has. NotificationX comes with a bunch of integrations to help push your visitors to the bottom of your funnel. I tend to install it for clients who run their own online store or Learning Management System like Tutor LMS or LearnDash
BetterDocs – BetterDocs is one of the best knowledge base plugins for WordPress. It's floating widget is a killer feature, imho. We use it with clients, and it replaces the KB that comes built-in with the theme or the accordion like knowledgebase
EmbedPress – If you have been embedding your Facebookor Instagram posts, you risk the embeds breaking. Not so with EmbedPress, an interesting plugin that lets you embed 75+ different sources to your WordPress posts and pages. With Full Site Editing coming soon to WordPress, EmbedPress will only be more useful in the near future
ReviewX – I was pleasantly surprised to find ReviewX as part of the WPDeveloper bundle. It upgrades the native WooCommerce review system with multiple criteria reviews, adds structured data for better SEO results and even allow customers to upload photos and videos.

Agency Bundle 1 year – ($100 discount) = Coupon code BFCM100
Agency Bundle Lifetime – ($200 discount) = Coupon code BFCM200
40% flat discount on all products of WPDeveloper = Coupon code 40BFCM
Closing Date: 1/12/2020
7) BuddyBoss Lifetime Deal

BuddyBoss is back for another lifetime deal and like the last time, the prices has increased. But why should you consider BuddyBoss and what will be the perfect use cases?
I skipped the initial BuddyBoss Lifetime Deal as I was financially strapped. But when BuddyBoss returned with a second lifetime deal, I decided to grab the 10 sites lifetime license as this allows us to build online communities using the best that WordPress has. And this includes integrating a learning management system, online store, events calendar with ticketing solution and more.
Even better, the BuddyBoss App will be officially launched in January 2021 and provides an affordable way for you to make your community mobile. The BuddyBoss App will allow mobile app-only features such as push notifications, tablet support and even haptic and taptic feedback. Oh, and you get instant messaging too (!).
BuddyBoss features an increasing number of integrations with leading WordPress plugins, increasing its value and the value of the plugin that you have just integrated.
BuddyBoss helps you launch affordable online communities, while integrating memberships and courses easily. Personally, I'm already putting my BuddyBoss lifetime license to use. As the pandemic rages and my church was looking for a way to strengthen the relationships between our business people, we settled on BuddyBoss after taking a look at a number of WordPress Membership and Social Networking plugins.
The BuddyBoss Lifetime Deal will end by tomorrow. Will it be offered again? It's hard to say, but if it were ever to come back, the prices will go up again. If you are interested but tight on cash, grab the BuddyBoss license using their payments plan.
8) Directorist Black Friday Deal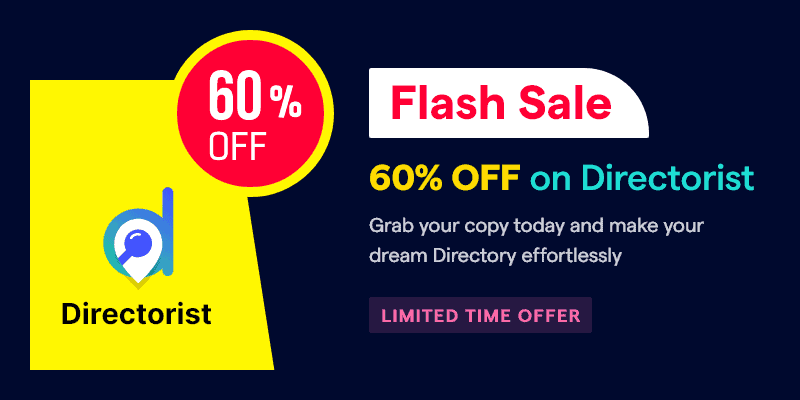 If you ever had to develop a directory site, you would know that it can be a hassle. You can either do one of the three.
1) Buy a directory theme off ThemeForest
This is an easy way to get started but long term, you might be frustrated with the limitations. Your content tends to be locked down under the themes' custom post type and a bunch of shortcodes from the bad page builder. Furthermore, you can't easily add features your site as the theme usually doesn't have proper WordPress hooks and filters. We don't recommend this until you like a life of machismo.
2) Use a custom post type plugin like Toolset or JetEngine
Before knowing Directorist, I found this to be the ideal solution as it allowed us to create sortable custom post types, custom taxonomies and custom fields, and then style them with Toolset's Gutenberg blocks.
However, we had to include a combination of non-related premium plugins to achieve the features that the client wanted. Compared to Directorist, there was no easy way to monetize the site, collect reviews, have a live chat for listing owners nor easily integrate a booking solution. We don't recommend this solution either.
3) Use a directory plugin like Directorist
When Sazzadul approached me with Directorist, I was amazed. Directorist was everything we were looking for in a WordPress directory plugin and more.

It has a powerful, extensible plugin that is being rapidly developed by the AazzTech team and is fully compatible with Elementor. Further page builder integration are coming soon.

This means, you can build a beautiful site and landing pages with Elementor, while letting Directorist handle the heavy lifting behind the scenes..
Some *killer* features of Directorist include
Live chat – site visitors can chat directly with listing owners
Rank featured listings
Monetize your listings via charging if your listing owners would like more images
Reservation & Appointments – a must have if your listing includes people like salon owners, hair stylists or lawyers
Review management – User Generated reviews will help boost your listing owners' reputation. Best thing is, you can moderate the reviews from the backend to give your listing owners the best prospects
But Directorist isn't perfect. Here's what we hope to see
Beaver Builder / Oxygen support – While we like Elementor, it can sometimes be unstable. Having the addition of Beaver Builder and Oxygen support would be great
Directorist comes with tons of hooks and filters for the hardcore developers among you, who want or need to customise the directory further. Or to wow your clients.
What Other Reasons to Buy Directorist?
Directorist has a lifetime agency tier (!) – yep, even its closest competitor, BusinessDirectory plugin runs on yearly renewals
Directorist is being actively worked on. Just take a look at their roadmap. It's ambitious and will make Directorist even better.
60% OFF – Yes, for this Black Friday Cyber Monday period, you can get Directorist at a very generous $319 for unlimited sites and all future premium extensions and themes. I can certainly think of some side projects to work on (and hopefully monetize) with Directorist
9) Gridbuilder Black Friday Ultimate License
Gridbuilder is a powerful, blazingly fast, advanced grid layout builder with real-time faceted search, which has been raved about for months but without a lifetime tier. This changed a few days ago. Coupled with Gridbuilder's Black Friday Cyber Monday promo deal of 40% OFF, you get a powerful tool for up to 100 sites.
But who is Gridbuilder for and why pay for such an expensive plugin?
While you can run your site without Gridbuilder, helping your visitors filter through your content quickly will help their experience with your site. Personally, I'm looking to apply Gridbuilder to the Leokoo site and a University portal. As we have a lot of content on these sites, letting our site visitors to select the content they want makes more sense than asking them to just use the search bar.
Gridbuilder is a fairly new plugin but sees constant updates from the developer. As such, you can be sure that new features will be added over time.
Gridbuilder has a robust developer API that lets you extend this plugin and deeply customize your website.
10) WP Sheet Editor All Access Plan
Our final recommendation for the best Black Friday Cyber Monday WordPress Deals of 2020 is WP Sheet Editor. This is one plugin that I have been eyeing for awhile as it can be used in various settings including quick edits for WooCommerce and Easy Digital Downloads stores, custom post types, WPML translations and more. I'm still new to the plugin but I'm excited over its possibilities.
As someone who runs a small WordPress development agency, we handle a range of clients with different needs. Editing their content fast helps as some of these clients have complex plugins setup.
While I have been using Admin Columns Pro for most of my clients, when it comes to doing quick edits of custom post types and custom taxonomy, it sometimes fails. Perhaps it is Nginx or some plugin conflict, but there is no set patterns and we have been looking for a solution for some time.
WP Sheet Editor has worked flawlessly and it'll be implemented for clients moving forward. But it'll also be used for Leokoo as we have a couple of custom post types running too.
WP Sheet Editor is at its lowest price during this Black Friday Cyber Monday period. If you are on a budget, request for split payments.
Conclusion: Black Friday Cyber Monday WordPress Deals
The navigating the slew of Black Friday Cyber Monday WordPress Deals can feel overwhelming. Especially with so many premium WordPress plugins and SaaS software to choose from. But the right plugin can transform your website or open doors to opportunities that didn't exist before this.
We will have our Directorist review up before the Directorist deal ends (December 5th) and have another list up by today.