Are you looking to start your new site and wonder what is the best cheap web hosting for your WordPress site? If that's you, you are at the right place. As an engineer and web developer who has been running websites since 1999, I've a fair bit of experience on web hosting.
Through the years, I've subscribed to really cheap shared web hosting, great managed WordPress hosting, pricey dedicated hosting and right now, powerful VPS Cloud hosting.
You can be assured that this article isn't fluff. While affiliate commissions help us run the site, our main aim is to help you find the right web hosting for your website needs.
Introduction to Cheap Web Hosting
Professional web hosting has been around since the early days of the internet. It boomed in the early 2000s as open sourced content management systems (CMS) such as Joomla, Drupal and WordPress gained popularity.
The recent years have seen more sites migrating from static to CMS, with WordPress being preferred. This is due to the benefits from running a CMS-based website compared to a static one. While it is cheaper to host a static site, long-term the CMS site with good content, will start gaining organic traffic via SEO.
But with the rise of CMS, came the rise of shady, cheap hosting.
So Why This Article on Cheap Web Hosting?
The truth is, majority of WordPress sites nowadays are hosted on cheap and bad web hosting. These hosting makes your site slow, vulnerable to malware and have hidden, low limits that they usually 'forget' to tell you.
But it doesn't have to be this way. Great, affordable web hosting exist. But they might not be that obvious in your community. With thick margins, badly done shared hosting companies are able to drown out their competitors via ads, affiliate marketers and misinformation.
And this is why we write this article. Our choices might not be the cheapest, but we will show you why they are worth your investment. After all, a quality web host will make a world of difference to your website management experience.
And then if you need more, we will show you the best options moving forward.
The Cost of Bad Hosting
Before we give you our recommendations, let us briefly count the cost of bad hosting. In no particular order, bad hosting does the following
Affects your site speed – On some shared hosting with hundreds of sites on a server, your site's loading speed is affected. And with it, your SEO results. If SEO is important to you, get a better host.
Makes you vulnerable to Malware – While VPS hosting solutions are containerised, meaning whatever happens to your neighbour's site, does not affect yours, it isn't the case for shared hosting. This means, you can have the best anti-malware WordPress software installed, and still get compromised.
Dodgy Backups – Backups take up resources but are crucial to the well-being of your site. However, regular backup plugins end up compressing your files, which doesn't work well on bad hosting. We've seen sites without working backups, as their backup process failed due to a lack of resources. Better would be going for incremental backups via WP Time Capsule, BlogVault or WP Vivid Pro if possible.
Low Limits – Most cheap and bad web hosting have notoriously low hosting limits. I encountered this while redesigning my Uncle's website a few years back. And all I did was to install a few basic plugins like Yoast SEO, Beaver Builder and WPForms, when the site stopped responding. We were then told to upgrade to their pricey VPS hosting solution or disable our plugins. That led us to say our goodbyes to them.
Which Cheap Web Hosting Do We Recommend?
After much research and testing, we recommend the following three web hosting companies.
| Name | Price | Type | RAM | Storage | Visitors | Staging | Backups |
| --- | --- | --- | --- | --- | --- | --- | --- |
| DreamPress | 16.95/mo | VPS | 1.5GB | 30GB SSD | 100k/mo | Yes | 2 weeks + On-demand |
| DreamPress Plus | 24.95/mo | VPS | Not stated | 60GB SSD | 300k/mo | Yes | 2 weeks + On-demand |
| DreamPress Pro | 71.95/mo | VPS | Not stated | 120GB | 1M/mo | Yes | 2 weeks + On-demand |
| SiteGround GrowBig | 24.99/mo | Shared | Not Stated | 20GB SSD | 25k/mo | Yes | 30 days |
| SiteGround GoGeek | 39.99/mo | Shared | Not Stated | 40GB SSD | 100k/mo | Yes | 30 days |
| NameCheap Pulsar | 11.88/mo | VPS | 2GB | 40GB SSD | - | N/A | $25/mo |
These three web hosting companies has their strengths and weaknesses. But at such low prices, they make it easy for you to focus on growing your site, instead of worrying about security or managing your servers.
SiteGround: Best for Beginners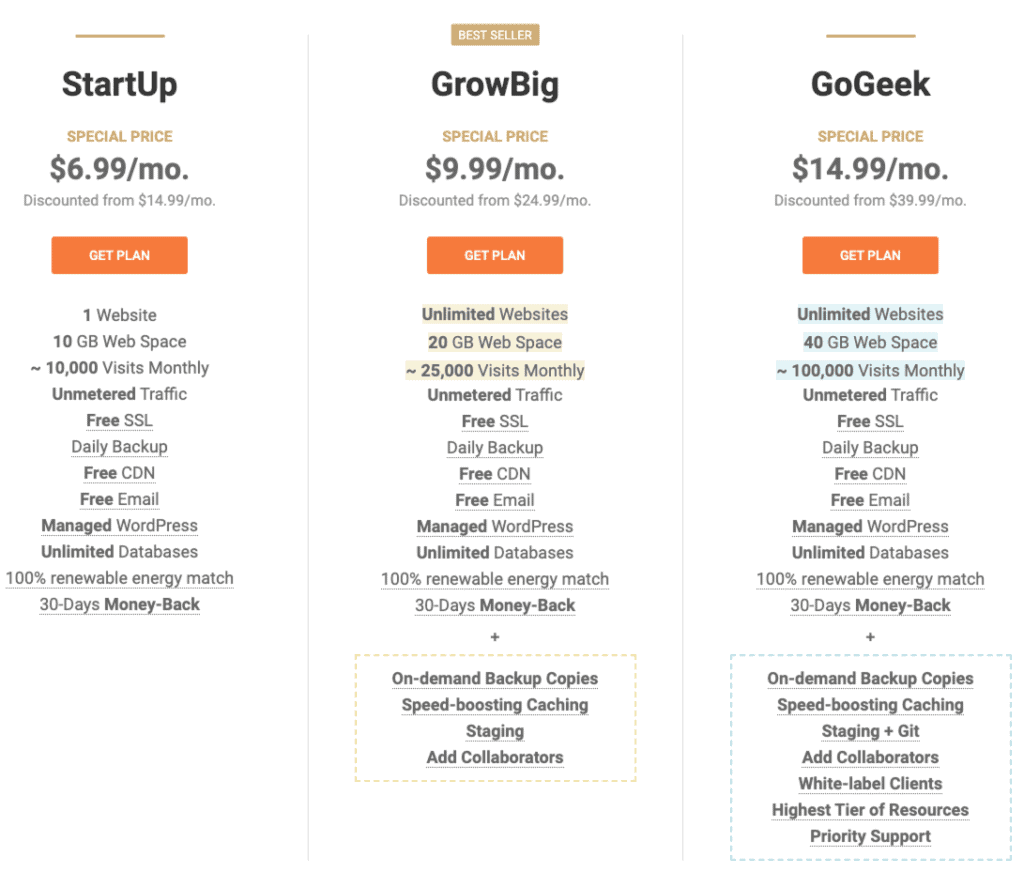 If you are starting out, SiteGround is a reliable host to start with. Their servers are optimised for speed and they definitely stand out among other shared server providers.
Start with the GrowBig plan in order to have staging sites for your websites. This helps in troubleshooting issues and plugin conflicts.
However, as SiteGround is a shared hosting, it is slower than DreamPress and NameCheap Pulsar. You need to be careful of your file usage as they do impose an inode limit (300k for GrowBig and 450k for GoGeek plans).
Security can be a concern with SiteGround's shared hosting as they are not insulated from badly behaved neighbour sites. If you run an ecommerce store or blog regularly, be sure to keep reliable backups via the solutions mentioned before this.
For best value with SiteGround, sign up for the longest contract possible. This will keep you on their discounted plan. However, if you can't get the same prices for renewal, it is best to change hosts.
DreamPress: Best Cheap VPS
While DreamHost does not call DreamPress a VPS, it is technically a VPS for one site and one corresponding staging site. If your site is crucial for your business, skip SiteGround and get DreamPress instead.
With powerful caching, 1-click staging and up to two weeks of backups, DreamPress promises a faster and more secure site compared to SiteGround's shared options. It also does not have limitations on inode, unlike SiteGround and other shared hosting providers.
However, if you need to host multiple small sites, the cost of DreamPress hosting can add up fairly quickly, making SiteGround a better choice.
DreamPress is the only managed WordPress hosting in our cheap web hosting recommendation. They cost half as much compared to their more established managed WordPress hosting competitors, Pressable, WPEngine and Pantheon, while performing at similar levels.
NameCheap Pulsar: Best for Professionals on a Budget
Finally, if you prefer having a VPS server on a budget, and can handle the management of the server yourself, NameCheap Pulsar might be better for you.
With generous limits and fixed-price renewals, you can stay with NameCheap Pulsar indefinitely. So what's the catch?
Unlike DreamPress, NameCheap Pulsar is an unmanaged hosting. This means, you need to handle the server updates, backups and security by yourself. And the time and software cost, can add up. Furthermore, there is no option to add in a cPanel, so be sure of your Linux skills. Or you might end up losing your site.
However, if you prefer, you can add an extra $25/mo to get their 'complete' server management. But this will bump up the price to comparable managed VPS servers. And at this price, DreamPress is the better option.
How About Hosting by my Local Digital Agency?
It depends really. There are digital agencies and web developers who end up buying cheap hosting and marking it up, before selling it to you. Find out what they offer and if true and stay faraway from these overpriced folks.
In comparison, I do know of many digital agencies who offer more value compared to these cheap web hosting. These can come in form of better hosting, security, usage of their WordPress agency licenses for plugins, and finally, technical support.
While hosting companies support you on hosting problems, digital agencies who handle your WordPress Care Plans, will support you if you encounter any WordPress related issues.
Cheap Web Hosting: The Conclusion
I hope our roundup on the best cheap web hosting is beneficial to you. Feel free to add your comments below on how these hosting companies been for you. Or if you have tried alternatives.