Continuing on our series on Affiliate Marketing on WordPress (as part of how to use WordPress for Startups), we now delve into a Pretty Link Pro review. Like ThirstyAffiliates, Pretty Link Pro is a link management tool for affiliate links and more. It also does stuff like link shortening and auto-linking keywords within posts.
But how does Pretty Link Pro perform and is Pretty Link Pro better than ThirstyAffiliates or is it the other way round? We purchased a license of Pretty Link Pro to check it out. Read more after the break.
Pretty Link Pro Review: An Introduction
Pretty Link Pro is an impressive plugin from Blair Williams, who also owns MemberPress, the leading membership plugin for WordPress. With 200,000+ installs, Pretty Link Pro dwarves ThirstyAffiliates (10,000+ installs). As such, any mention of affiliate link management plugins should include and compare the both of them.
Unlike ThirstyAffiliates which comes free with paid extensions, Pretty Link Pro comes with either an affordable USD 47 for the Blogger Edition or a USD 97 for the Developer Edition with an unlimited amount of sites. Having said that, let us dive deeper into the features of Pretty Link Pro
Pretty Link Pro Review: Easy to manage links
Pretty Link Pro comes with an easy way to manage your affiliate links. With the ability to create links, redirect them via 301, 307 and even Javascript among their various options, Pretty Link Pro comes well prepared to deal with all sorts of affiliate links.
On the dashboard of Pretty Link Pro, you will find your report of hits and unique hits, making it easy to know the performance of your affiliate links. But Pretty Link Pro didn't stop there. It has the ability to create a Pretty Bar when your reader clicks on the link and visit a foreign site, very much like how Sniply works.
Pretty Link Pro Review: Social Sharing
Pretty Link Pro comes with built-in social sharing to make it easier for your content to be distributed by your readers. While it might have been a good idea back then, we prefer to recommend standalone plugins like Social Warfare, which is very much the fastest social sharing plugin in WordPress.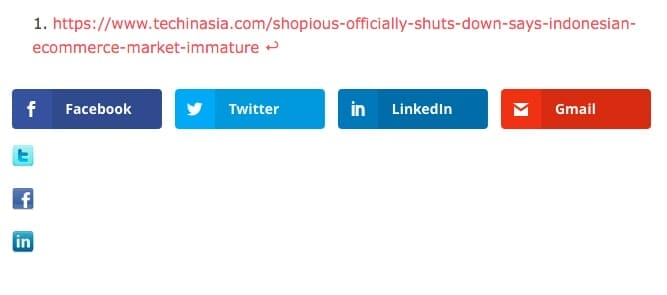 When I enabled Pretty Link Pro's social icons on Leokoo.com, I found that instead of being horizontally arranged, Pretty Link Pro's icons were vertically placed with some awkward spacing that was coming from a CSS clash between Pretty Link Pro and my theme.
Sadly, I found the social sharing feature of Pretty Link Pro as a disappointment compared to standalone social sharing plugins like Monarch by Elegant Themes or Social Warfare.
Pretty Link Pro Review: Weaknesses
Having run through Pretty Link Pro's link creation and groups options, I find them solid, but kind of basic to say the least. While my ThirstyAffiliates'Dashboard shows me things like link destination, link categories, clicks, auto-linked keywords and published dates, Pretty Link Pro only shows me the group (link category in ThirstyAffiliates) and the number of hits.
Pretty Link Pro's problem is compounded due to a lack of add-ons, which could potentially make it much more powerful. With only link management, cloaking and auto-linking as the main affiliate link management features of Pretty Link Pro, Pretty Link Pro does feel like a product in suspended development.
Pretty Link Pro Review: Why get the pro version?
Upgrading to the Pro version of Pretty Link enables the following options
– Auto keyword replacement
– Auto creation of pretty link for posts/pages and tweeting it
– Social sharing
– Turn your site into a link shortening service
– Import and export links
– Generate a Pretty Link Pro report
If you are on a budget and do not need the extra features that come with ThirstyAffiliate, Pretty Link Pro is a worthwhile investment. With the crucial auto-keyword replacement, you can automate the placement of your links to different posts and even have a threshold for it.
Pretty Link Pro: Conclusion
For USD 47, Pretty Link Pro is an affordable way of getting started in affiliate marketing. In comparison, if you prefer to have more features or have the flexibility of creating your own features, ThirstyAffiliates would be a better choice for you.
Either way, both are great choices for you.