Mail Mint Review
Summary
Mail Mint is a promising Email Marketing and CRM plugin for WordPress. It comes with several interesting features including a deep integration with WPFunnels and generous lifetime terms.
Pros
Unlimited websites on lifetime
Software is rapidly improving, as the team behind Mail Mint has a proven track record
Promising Email Automation Marketing plugin
Cons
Limited integrations, including integration with only one contact form
Basic CRM features
Limited reporting
In this Mail Mint review, we take an unbiased look at Mail Mint, a WordPress Marketing Automation and CRM plugin by Code Rex. CodeRex is the company behind notable WordPress plugins such as WPFunnels, WPVR and Cart Lift.
Having built websites since 1999 for both large and small companies, I learned that you need more than just a well-designed landing page to convert visitors into leads. Things like CRM and email automation are important, but expensive. Hence Mail Mint (with WPFunnels) is an amazing opportunity for WordPress users.
Mail Mint is a promising Email Marketing and CRM plugin for WordPress. It comes with several interesting features including a deep integration with WPFunnels. Personally, I think Mail Mint is worth the purchase due to the generous terms.
In this review, we will be looking at the features, strengths and weaknesses of Mail Mint and how Mail Mint compares to alternatives. Keep reading our Mail Mint review to see if this is the right plugin for you.
Mail Mint Product Overview
Mail Mint is an email marketing and CRM plugin that enables you to build email marketing automations. When paired with WPFunnels, you get a powerful combination of a funnel builder with email marketing automation. This makes it perfect for businesses and agencies who run digital marketing campaigns, sending visitors to their landing pages.
Mail Mint comes with some nifty features including an email builder, lead generation forms (aka. lead gen forms), visual automation workflows, a basic CRM and integrations with some popular WordPress plugins including WooCommerce and Easy Digital Downloads (EDD).
Is Mail Mint good?
It depends on what you need for your business. If you need a more complete solution, Funnelkit, FluentCRM or hosted solutions like ActiveCampaign might be a better choice.
But if you need an affordable email marketing solution with automation and CRM, you won't go wrong with Mail Mint. Code Rex has shown that they're committed to continuous improvement of their plugins. Plus, they're receptive to suggestions when I emailed them.
Let us look at Mail Mint's features below to see if Mail Mint is a good fit for your business needs.
Mail Mint Review: Features to Consider
Feature 1: Email Marketing Automation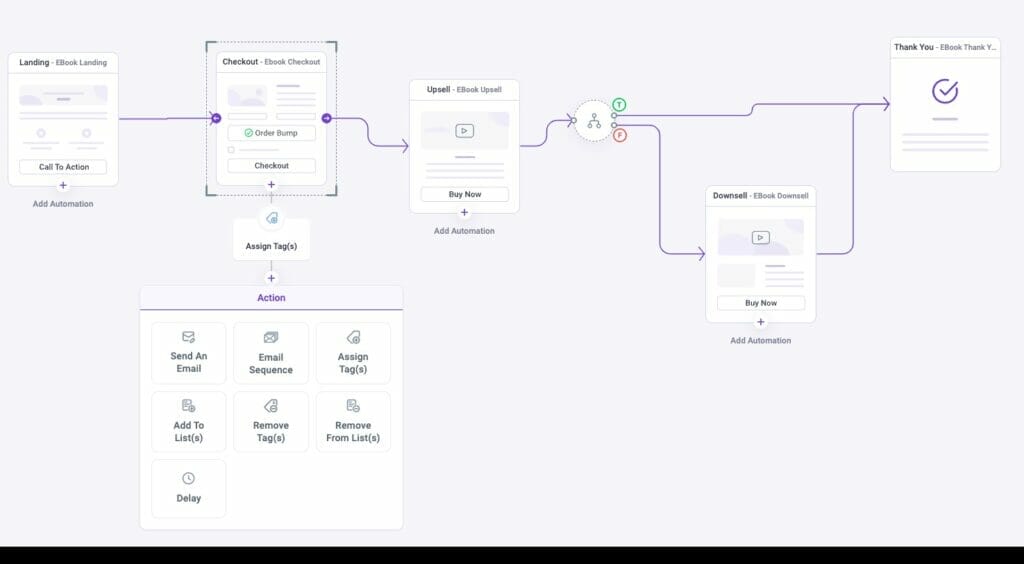 I like Mail Mint's Email Marketing Automation capabilities. You get a visual builder (or visual canvas as the Mail Mint's team calls it) that allows you to easily set up email marketing automation. This includes things like tags, triggers, delays, email sequences and outgoing webhooks. Webhooks are an important feature as it allows you to integrate with external applications, improving the plugin's value.
What makes Mail Mint stand out from the other players is its deep integration with WPFunnels, its sales funnel builder platform. This means, instead of going back and forth between your sales funnels software and email marketing platform, you can set and adjust everything from one screen, easily.
While the interface of WPFunnels could be improved, the drag and drop capabilities of WPFunnels plus the ability to add email marketing automation easily, makes Mail Mint a very useful tool for digital marketers and business owners.
Feature 2: Integration with WooCommerce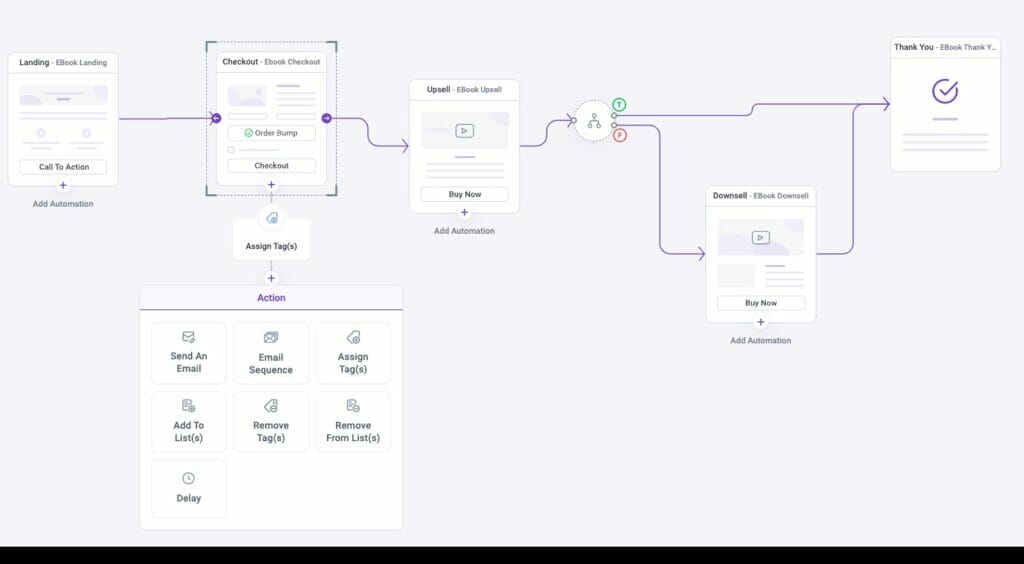 Mail Mint is integrated with WooCommerce. While it lacks the breadth of FunnelKit's pre-built Templates, it is a good start.
Integration with WooCommerce will enable you to improve your online store's performance, ensuring better ROAS for your digital marketing campaigns. Useful pre-built templates include Failed Orders Recovery, New Order Follow-Up Emails and Completed Order Follow-Up.
Feature 3: Ability to run Email Newsletter Campaigns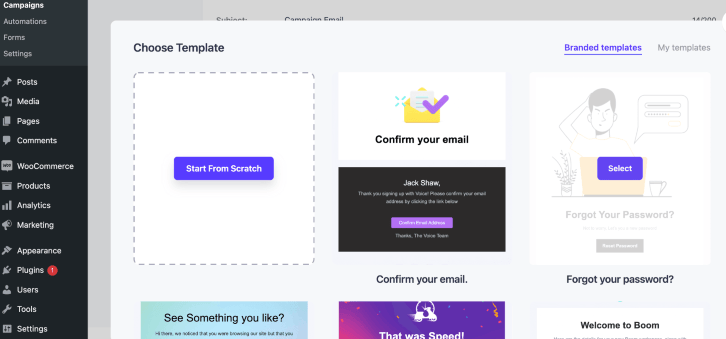 Emails are important to digital marketing as it isn't affected by algorithms and trends, unlike social media platforms. However, if your email subscriber list is large, it can get expensive, fast. Especially if you have a large list of subscribers.
Mail Mint allows you to capture email subscribers via its custom opt-in forms, and engaging with your email list via its email builder. Need help with your email newsletter design? Mail Mint has that covered as well via its email templates.
If you need help with the copy, Mail Mint integrates with ChatGPT to help you churn out persuasive email copy and headlines.
In short, you can grow an email list affordably with Mail Mint. This will help your blog, business or clients
Alternatives to Mail Mint
If you're considering Mail Mint and wonder how it stacks up to its competitors, let us help you with some comparisons below.
Funnelkit Automations vs Mail Mint
Funnelkit Automations is a much more established plugin compared to Mail Mint. With features such as SMS integration, dozens of pre-built automation recipes plus the ability to view a contact's user journey with regards to the automation, Funnelkit Automations is more complete compared to Mail Mint.
However, if you don't need (or don't really use) the advanced features of Funnelkit Automations, Mail Mint's pricing means you get a very good deal. As Mail Mint matures, it will eventually have more features, reducing the features gap between the two plugins.
Funnelkit Automations is only available on the Professional tier of Funnelkit's pricing table. It is currently $399/year upon renewal.
Read: FluentCRM vs Groundhogg vs Jetpack CRM
FluentCRM vs Mail Mint
FluentCRM is a more complete CRM plugin compared to Funnelkit Automations and Mail Mint. It is by the WP Manage Ninja team and has been battle tested as the company uses FluentCRM for all their email marketing needs.
Compared to Mail Mint and Funnelkit Automations, FluentCRM comes with a lot more integrations, in-depth CRM reports and analytics and a deeper user overview.
FluentCRM is also more affordable than Funnelkit Automations, as $499/year gives you 50 sites. In comparison, Mail Mint has limited integrations and limited CRM capabilities. If you need those features, you might want to consider FluentCRM instead.
However, if you don't mind trading the limited integrations and the limited CRM for an affordable CRM and Email Marketing Automation plugin, Mail Mint is a good choice.
Mail Mint Review: The Conclusion
Should you get Mail Mint? Is Mail Mint right for your WordPress site? In conducting the review of Mail Mint, I feel the answer really depends on your needs.
If you can wait for Mail Mint to mature, Mail Mint makes a lot of sense. Code Rex, the company behind Mail Mint, has been improving WPFunnels after their launch in 2022.
As of now, Mail Mint is limited as it's new and needs time to mature. For now, Mail Mint only works with only one form plugin (Gravity Forms), plus the automations can only be applied to individual products, which is frustrating. Webhooks are outgoing only for now.
Personally, I wish to see Mail Mint's future integrations, as that will improve the plugin tremendously. Contact Forms, Membership and LMS plugins are on top of my wishlist. Also perhaps integration with Uncanny Automator, Flowmattic and Pabbly Connect, among others.
However, Mail Mint is currently going at an unbeatable deal. Unlimited sites for a lifetime price. Heck, you can even get the Mail Mint x WPFunnels bundle, which is even more amazing.
Granted, you need to wait for Mail Mint to mature, but this might just be the best investment you can make, once it matures.
Here are two coupon codes that will get you a massive discount over the listed lifetime price
80% OFF – thankyou80
70% OFF – mintlaunch70
Mail Mint Review
Summary
Mail Mint is a promising Email Marketing and CRM plugin for WordPress. It comes with several interesting features including a deep integration with WPFunnels and generous lifetime terms.
Pros
Unlimited websites on lifetime
Software is rapidly improving, as the team behind Mail Mint has a proven track record
Promising Email Automation Marketing plugin
Cons
Limited integrations, including integration with only one contact form
Basic CRM features
Limited reporting